It is a ninety minute drive from Stow-on-the-Wold in Oxfordshire to Holdenby House in Northamptonshire. We didn't mind it one bit, because it's a lovely drive, because I was keen to see the countryside, and because at the end of the drive….there would be falcons.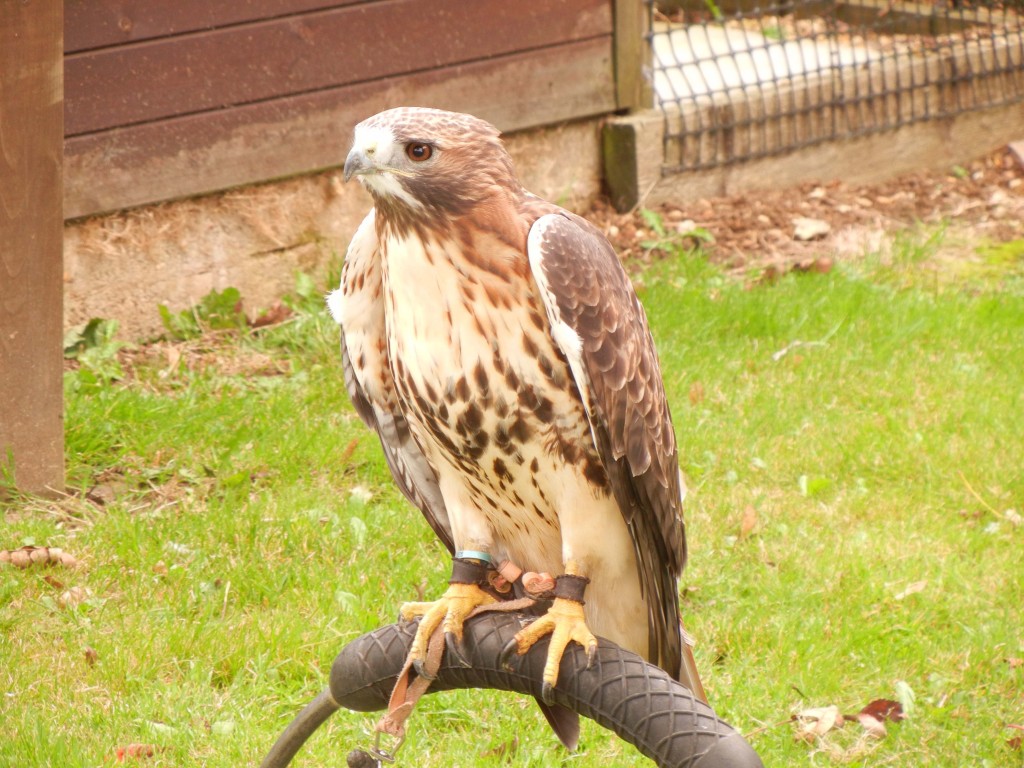 I did not take any notes while we were at Icarus Falconry. I should have, but it's difficult to write with a giant leather glove and a bird on one hand, and there was so much information coming at me that I needed a tape recorder, not a pen.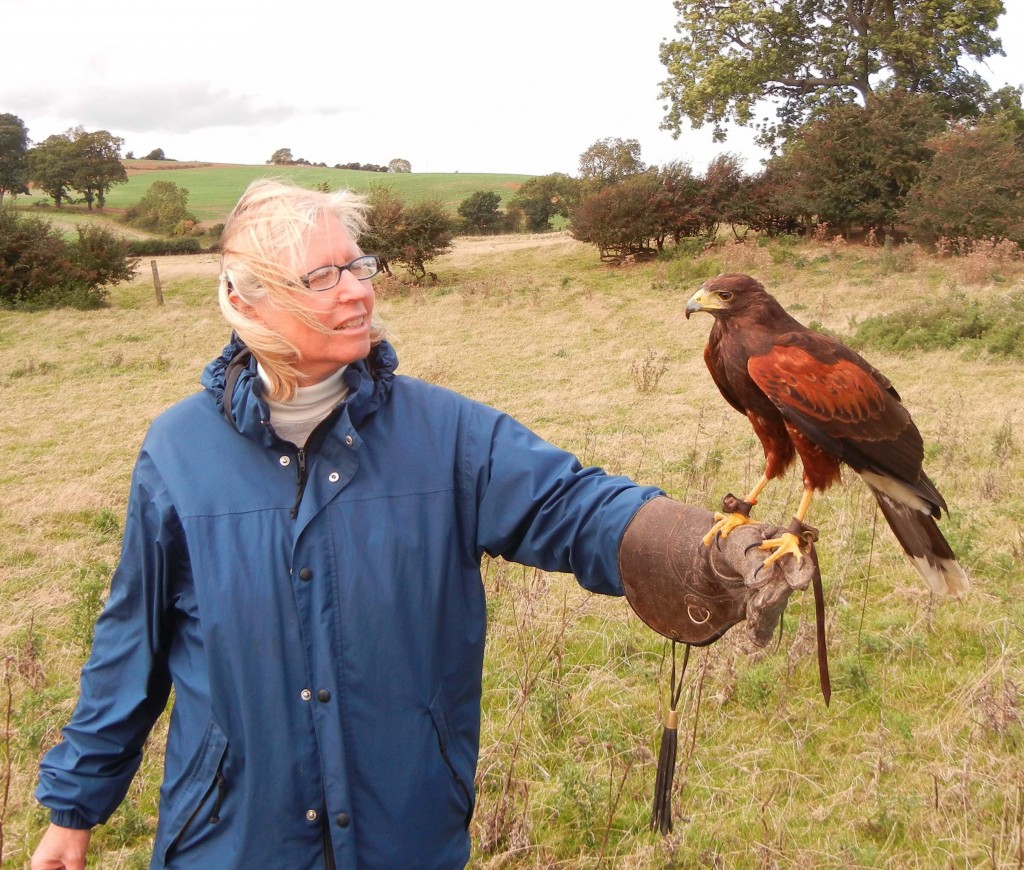 My husband and I had a phenomenal half-day session with the staff at Icarus, who gave us an intimate look at the breeding, training and flying of their marvelous birds. We began with a brief overview of the different birds in the weathering ground, and then we set off with Pam to give a little white barn owl named Gracie a bit of exercise.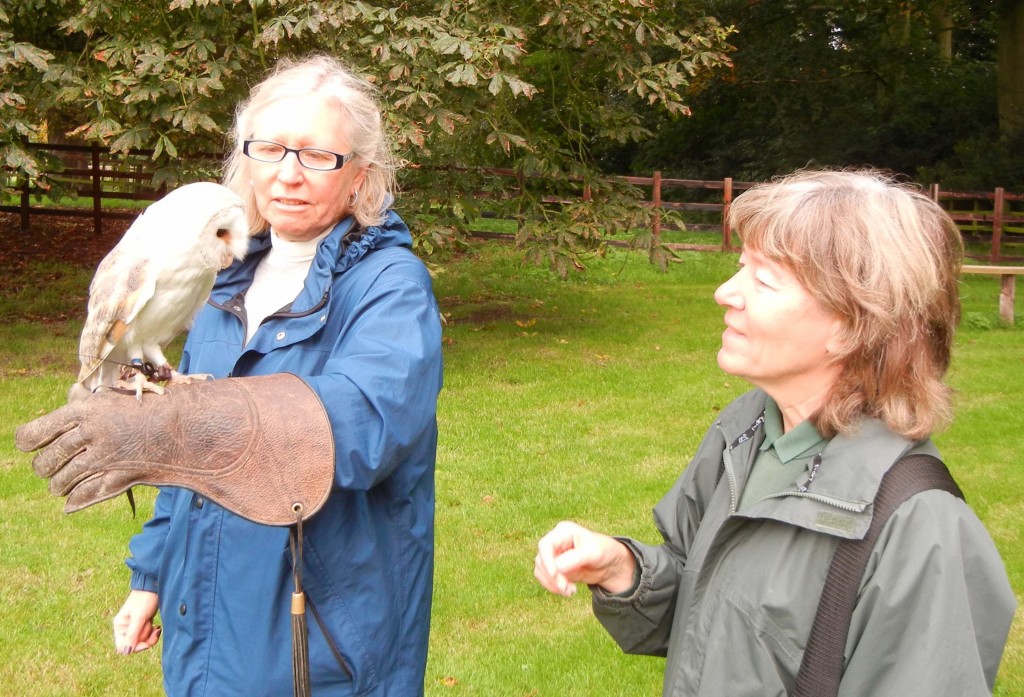 The birds are feather-light on your wrist and they land light as feathers, too. We were introduced – quite personally – to barn owls, peregrine falcons, Harris hawks, an enormous and beautiful black eagle and a tiny and adorable tawny owl named Sage. We learned about the care of these wonderful creatures (lots of it), and discussed what role they might have played in the court of an Anglo-Saxon king – and whether a king's son might have started handling such raptors at age five. (Yes.) We learned about bating and mantling; we learned what the birds eat and we learned how complicated the business of falconry must have been in medieval times. We learned that a goshawk would have been so successful and so fast that for an early medieval falconer the bird was near as good as a gun at bringing down prey. (And of course, they didn't have guns.)
We met a tiny merlin — a lady's falcon weighing seven ounces. Because their prey in medieval times would have been small birds on the wing, like larks (not exactly a filling meal for a hunter), they were considered mere accessories for the ladies when they rode out with the men. (!!!) The merlin though was lovely to watch in flight, playing a game with the falconer who would swing his lure in a wide arc while the bird chased it, turning on a dime in mid-air.
After putting Gracie the owl through her paces we had a chance to fly a peregrine on the grounds of Holdenby House. Then we set out on a brief drive up to a hill to fly a larger bird, the Harris hawk, who navigated the winds on the hill with ease.
Birds have to be released and have to land into the wind, and it was astonishing to see with what grace and lightness the bird landed on my wrist. (Truth to tell, she took off and landed whenever she bloody well felt like it. I had little to say about it. My job was to hold my arm out at the right angle. I would not want you thinking that I did anything more than follow instructions from an expert!)
The staff at Icarus Falconry were friendly, warm, so very knowledgeable about the birds and so caring for their charges. Many thanks to John, Mike, Tracey, Tom and Pam for a remarkable and rewarding experience.