Driving in Britain is such a thrill for Americans. Not a good thrill, mind you. Some people refuse to even attempt it, but I am married to an intrepid Canadian who is unfazed by the demands of left-handed driving. This time we had a car with a gps that spoke to us in a clipped British accent, and what a relief! No more fumbling with maps while driving round and round the round-about as you try to figure out which exit will take you where you really want to go rather than to Upper-Slaughter-on-the-Moor-Behind-the-Barrow.
And so we set out from the rental agency and made it to our first stop, Oxford, just in time for a quick lunch before walking over to the Bodleian to see the Gough Map. The Gough Map, however, was not there. It had not been there three years ago on my last visit, either. Then it was in Scotland. This time it was "resting". A friendly guide assured me that it had been on display all of last year and that it was very beautiful. So beautiful, in fact, that she had wanted to take it home. If she had, I might actually have been able to see it. But no.
So much for the Bodleian. Next stop: Oxford's Norman castle, built upon an earlier Anglo-Saxon fortification and including a Saxon tower and the remains of Anglo-Saxon town walls. Eureka! This was news to me. Even better than the Gough Map!
The Anglo-Saxon wall, it appears, was built during Aethelred II's reign, probably around the year A.D. 1000, and probably as part of the building effort that went on in order to defend towns against the marauding Danes. Unfortunately, it did not stop the Danes from swarming over the Oxford walls in early A.D. 1010 and burning the city to the ground. Nevertheless, it is proof that the late Anglo-Saxons relied on more than wooden palisades for defense. An "Aha!" moment for me.
Late in the day we followed the ancient Roman road, the Fosse Way, (still called the Fosse Way and how cool is that?) to our hotel in Stow on the Wold, which sits on a hill alongside that old Roman road. In the Domesday Book the town was called Eduuardesstou. A stow was a holy place, and so the town's name meant St. Edward's Holy Place. Now things get dicey. Who was St. Edward? Possibly a hermit who lived there. Possibly – and this is my favorite version – St. Edward the Martyr, murdered brother of Aethelred II. As for the wold, that part of the town's name was added several centuries later. A wold is a hill, and Stow does, indeed, sit upon a hill. The town, though, still claims links to St. Edward, as you will see.
Our day was not over, though. I wanted to make a visit to the nearby Rollright Stones – a prehistoric stone circle about 4500 years old. I had my reasons. If you ever read SHADOW ON THE CROWN, you'll know what they were.
Our hotel, The Stow Lodge, was beautiful and about as traditionally British as one could wish short of a palace.
I love this kind of hotel. I suppose it's a bit stodgy, but I'm getting a bit stodgy myself.  Our room overlooked St. Edward's Church, its first founding dating back to the 10thcentury, and the St. Edward in question quite probably that murdered elder brother of Aethelred II. This was all a matter of synchronicity to me, as I have had an ongoing relationship with Aethelred and Edward the Martyr for some years now.
There is in Stow an inn that dates back to A.D. 947, another reason why the town intrigued me.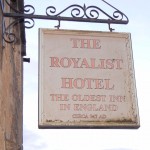 Stow was a wool and corn market in medieval times. Now it is a charming town with lovely shops and about 30 tea rooms – yes, that's an exaggeration, but not by much. There were tea-rooms on either side of our hotel, so you can guess what that meant.