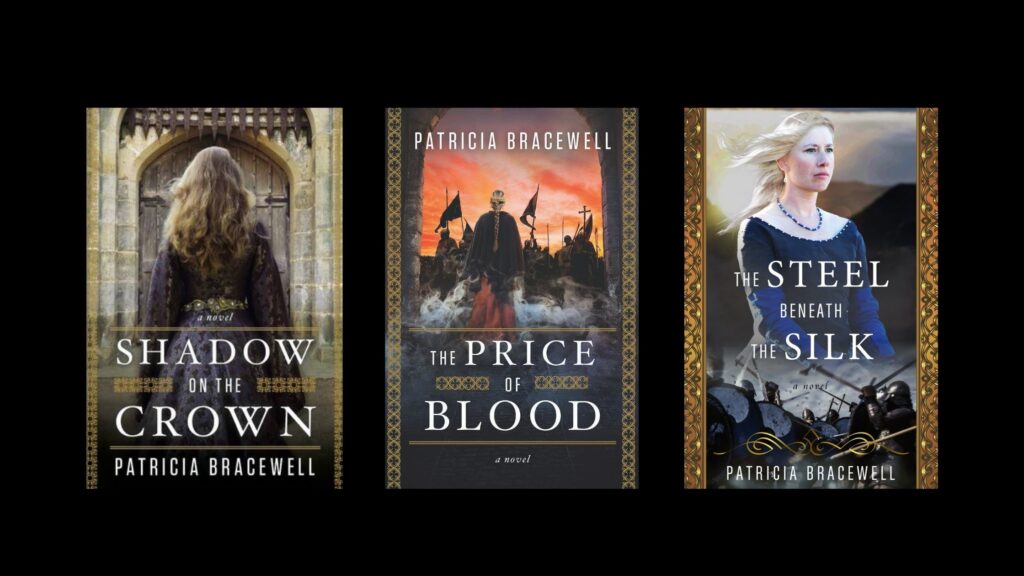 The first 2 novels of my trilogy show a Queen Emma whose face is turned away from the reader.  But for my third novel I wanted to show a stern, determined Emma, and I knew exactly what she should look like. The figure on the cover of The Steel Beneath the Silk is my friend Tori.
Tori is a horsewoman whom I had consulted during my research, and she is also a member of the Society for Creative Anachronism (SCA). The SCA is an inclusive community that pursues research and re-creation of pre-seventeenth century skills, arts, combat and culture, and its "Known World" is divided into twenty regions called Kingdoms. Each Kingdom is ruled by a pair of monarchs who have competed in a Crown Tournament to win the throne.
Tori has reigned as Queen of the West Kingdom twice, and the cover of my novel was pulled from a photo of her taken at an SCA event. If you think being a Queen in the SCA is a cushy job, think again! The SCA and Tori's role in it make a fascinating story. I'll let her tell it…
"I was 11 years old when my mom brought me to a small local SCA event, and I was 15 when I attended my first big event. There were knights fighting in armor, drums pounding, bellydancing at night in the firelight, and music everywhere. I was always a kid that loved fantasy books, medieval history, any book that gave me anything approximating those things. I felt like I'd stumbled into one of my books. I was hooked!  After that I went to every SCA event I could. The only requirements are an entry fee and an attempt at pre-17th Century clothing. I went to events for years where I basically had a tent, two dresses and a small cooler of cheese and salami, a loaf of bread and some water.
One day during a tournament I very shyly went up to a gentleman running the Herald's Point table to request my SCA name. He grandly introduced himself as "Flieg."  He was wearing a floppy hat and had twinkling eyes and a hearty voice.  He looked like Gandalf. I told him I wanted the name Arwen, from Lord of the Rings. He told me there were no Elvish names in period, but perhaps we could find something similar. I walked away with the Welsh name Arianwen, and the knowledge that "ferch" meant "Daughter of" in Welsh.  All I had to do was figure out what my father's name might have been, and my SCA name and persona were born: Arianwen ferch Morgan.
My persona is set in 14th century Wales. However I have been known to dabble in other time periods for my costumes, such as German, Venetian, Roman and Greek.  When you live in California, a chiton is so much more comfortable on a hot day! I've made some of my gowns; my more elaborate gowns were mostly created for reigns. Typically when you are an heir to the throne, wonderful and kind people will step forward and volunteer to help you with clothes.  There are seamstresses in the SCA that will take your measurements, discuss your ideas with you and then custom make an outfit for you.  I've been incredibly blessed to have many amazing people in my life that sewed for me. 
The SCA Kingdoms are ruled over by Kings and Queens—the premiere ranking members while reigning. They essentially act as CEO's during their time on the throne. They make decisions, give out awards, handle any disciplinary actions necessary and are the figureheads for the group. Principalities are smaller areas inside of a Kingdom; these are reigned over by Princes and Princesses in fealty to the region's King and Queen.  The West Kingdom is made up of Northern California, most of Nevada and Alaska; Japan, Korea, Thailand, and Pacific Rim. 
I carry a number of "titles." I am a Duchess, one of the highest ranks the Society offers. Dukes and Duchesses are members that have reigned as King or Queen at least twice.  I am also a Countess—an individual who has reigned once as a Queen (or Count if as King.) I am a Viscountess, meaning I have reigned as a Princess over a Principality. I am a Baroness, which is a title given to individuals by the Crown at their discretion. I also carry the right to the title Rider of the West.  I was granted a Gold Scarf for my endeavors in horses and horsemanship.
I do a lot of service in my Kingdom, from helping Kings, Queens, Princes and Princesses run their reigns to running events large and small.  Volunteers are the support network of the SCA, the ones that make it all come together! 

I have held the following SCA offices:

Equestrian Mistress—responsible for all horse related activities. This officer must know the rules and regulations for having horses involved at events, take care of any boarding requirements for longer events, and ensure that all horse events are done in a safe manner.
Lists Mistress—in charge of running tournaments: setting up who is fighting where and when! 
Chatelaine—essentially helping new members with all the information they may need to get started. 
Deputy to the Seneschal. Seneschals are very important. They act as the day to day business managers of the various locations.  They work exceptionally hard for their groups! 
On the day that this photo was taken I was at the West/AnTir war–a large inter-kingdom event.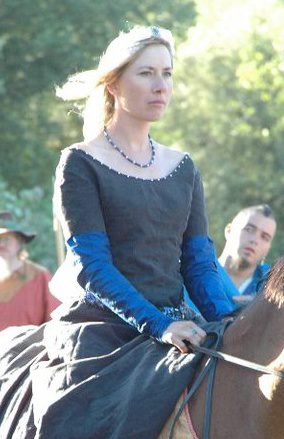 AnTir is our neighbor, which includes Oregon, Washington, the northern tip of Idaho, most of British Columbia, Yukon and the Northwest Territories. Every year we get together for 4-5 days in Gold Beach, Oregon and have a "war" over 4th of July weekend.  At wars we have large armored battles, equestrian activities, cooking events, many merchants with a variety of wares, dog coursing, the list goes on! 
In the picture, I was getting ready to ride into Grand Court. Grand Court is usually a big elaborate affair, with sitting Royalty from many different Kingdoms and Principalities visiting. The entrance into Court is often a large procession, with Heralds, banners and attendants. My consort Titus and I were the current heirs to the West Kingdom. He had won the June Crown Tournament, and thus we were the Crown Prince and Crown Princess of the West.
I live in Chicago now, in the Midrealm. Due to Covid, I have not had much opportunity to get to know much about my new kingdom!
Patricia, I've enjoyed being involved with your books over the years, and I'm so glad we met all that time ago over a question about a horse's girth. It's been such a joy to be your Emma."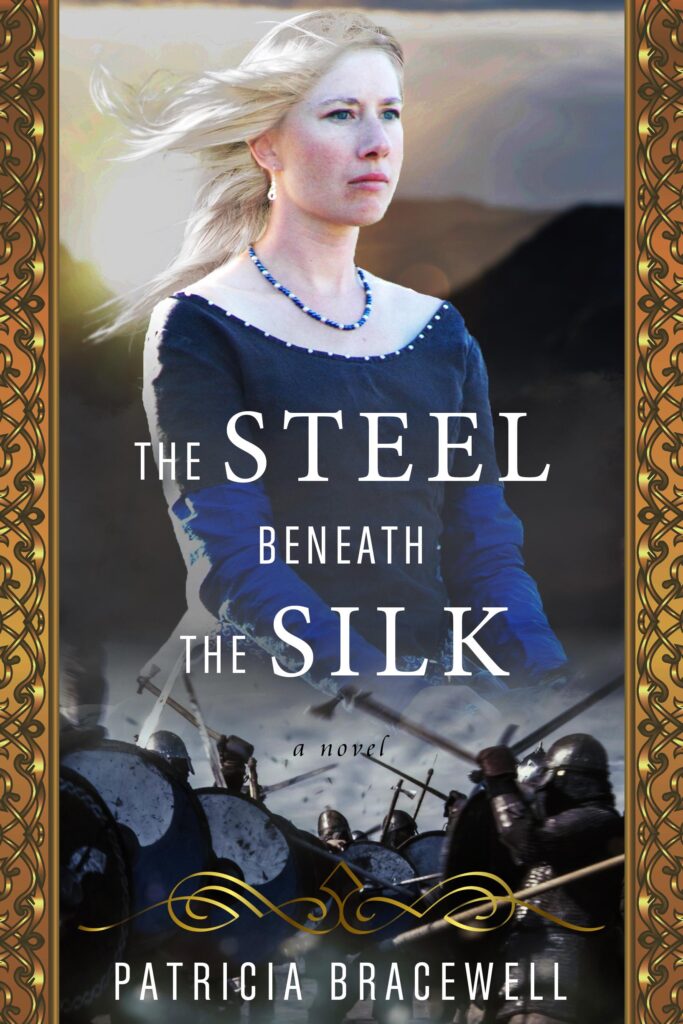 Thank you, Arianwen, for taking us into the world of the Society for Creative Anachronism and, most especially, for allowing me to use your image—of a Crown Princess on her way to war—for the cover of my novel. It's wonderfully appropriate, I think, given all that occurs in the book!
Note on SCA Membership: SCA members pay a yearly fee. This allows them to hold offices in the SCA, fight in Crown and Principality tournaments, and receive a discount on their entry fees.  They also receive access to the monthly newsletter of their area.  Membership is not required, though, to attend events. People wanting more information about the SCA can go to sca.org.