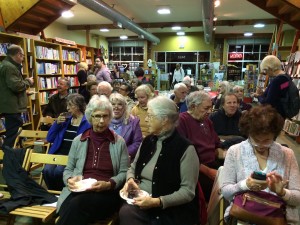 There were lots of familiar faces last night at the Diesel Books launch party for The Price of Blood. Friends from as close as next door and as far away as New York turned out to buy books and cheer on our favorite medieval queen, Emma of Normandy, and her nemesis, Elgiva.
Book club members, fellow writers, tennis buddies, even my friend the Norse sailor (retired) greeted each other – and me! – although there's never enough time to schmooze at a coming out party as much as I would like.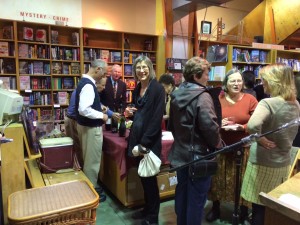 The audience devoured the two pounds of Sees 'Normandie' chocolates that my husband had carefully arrayed on a delicate glass platter — and thank heavens! God forbid I should have brought the leftovers home!
So, what did we do, besides nosh, drink wine and chat? Well, I spoke about Emma, Elgiva, and the ghost who haunts the king; about why I'm writing this medieval trilogy; about the business of publishing a book. I read a little from the novel, answered questions, and exchanged lots of hugs. Tonight, in Pasadena, I hope to do it all again!