I combined my fifth trip to the International Congress on Medieval Studies at Kalamazoo with a follow-up jaunt to the South Carolina Book Festival. Michigan, of course, is nowhere near So.Carolina, but my sister had recently moved to S.C. and we were due for a visit, so travel plans were made and hotels booked. Anticipation grew, and at last I flew to Chicago where I hauled my suitcase onto the Blue Line, trudged up the stairs to Union Station and caught my train to Michigan.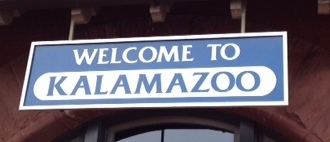 At Kalamazoo I rubbed shoulders with roughly 3000 medievalists who were busily attending sessions; gathering in the cafeteria or local watering holes for drinks or meals; making new friends and re-connecting with old ones. I did all of the above, but first I carefully selected the sessions I would attend.
I listened to, among others, a paper on Emma of Normandy (SCORE!), one on Weapons and Masculine Identity in Anglo-Scandinavian Yorkshire, and several on Archbishop Wulfstan, a character in my novels. I heard more Old English read aloud than ever before, learned about the thread count on the Bayeux Tapestry, and inspected a re-creation of the Lubeck Wappenrock, which is fabric armor from 15th century Germany. Painted! And the paint added to its protective capability! Who knew? And if you want to see how fabric armor is made, look here.
The sessions at Kalamazoo are fascinating, and the people there even more so. I spoke with a Danish archaeologist from the University of Bergen who wore Thor's Hammer on a chain around his neck (!!!) and answered my burning questions about Harald's Viking ringforts. I dined with a charming young professor from Sicily who lectures on Medieval History at the University of Lincoln. I met a fantasy-loving school librarian who teaches courses on Tolkien, witchcraft and Harry Potter. I hung out happily with Anglo-Saxonists one night and with Chaucerians the next. As a result, I did not spend nearly as much time in the Exhibition Hall (that's where all the gorgeous books are) as I would have liked. There was so much there that my head would begin to spin so that I couldn't make up my mind about what to buy, and then I would run out of time and have to dash to the next session. It was maddening.
On Saturday I joined authors Jess Wells, Emma Campion, Grace Tiffany and Sharan Newman for a historical fiction panel sponsored by the local independent book store. We had a good sized audience, and I know that all of us were grateful to Kazoo Books for the terrific promotion they do for historical novels, not just at the Congress but year round.
Then, after three wild and crazy days of all things medieval it was back to Chicago where my husband joined me for a little R&R before escorting me to Burr Ridge for a book talk and signing. I am indebted to my friend Danielle and to author/actor David Blixt who braved horrific Chicago traffic to attend. 
When I landed in S.C. the next day for the Book Festival I was still in medieval mode because the main draw for me was Bruce Holsinger, professor of history at the University of Virginia, who spoke about his novel A Burnable Book, set in Chaucer's London. This festival, though, was much more Southern Comfort than medieval mystery, and when asked what impact Southern living had on the writing of his novel, Professor Holsinger seemed stumped. (You must admit, from the Southern U.S. to the stews of Southwark is a bit of a mental stretch, although I think that his graveyard scenes did have a faint whiff of Southern Gothic about them.)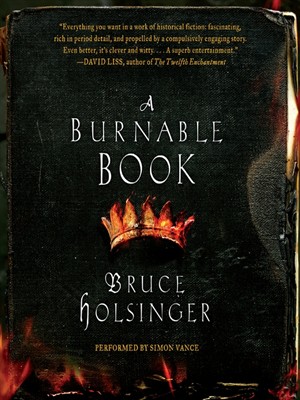 The Exhibits area at the book festival was not quite so overwhelming as at Kalamazoo, and the vibe there was distinctly different, but books were being celebrated and sold in each, and that was all that mattered.