Today I'm taking part in a Tasty Summer Reads Blog Hop! If you've never heard of a blog hop – and this is my first! – here is how this one works: Each author invites up to five other authors to answer five questions about their current summer release or Work In Progress, and at the end toss in a tasty recipe that ties into it. As more authors join the hop (and it's only August – the summer is young!) I will add links to their blogs so readers can discover their books and experiment with new recipes. I was invited to join this event by the delightful Jessica Knauss, and I have invited Gillian Bagwell to join the hop. Her recipes should be up soon. So, let us begin!
My summer release is SHADOW ON THE CROWN, which appeared in the U.S. last February and was launched in Britain in June. The novel's setting is 11th century England. Fifteen-year-old Emma, sister of the Duke of Normandy, crosses the Narrow Sea to wed King Aethelred II, and finds that she is bound to a man tortured by past sins and haunted by the ghost of a murdered king. Little more than a political  hostage – Emma learns very quickly that in the treacherous game of marital politics, it's the bride who shoulders all the risk. She must draw on courage and cunning to navigate the subtle schemes of sinister elements at court, and to defend herself against a rival scheming for the king's favor. The book is the first of a trilogy about Emma of Normandy, and will, I hope, immerse you in the pre-Conquest world of Anglo-Saxon England.
Now let me tackle the tasty questions I've been posed.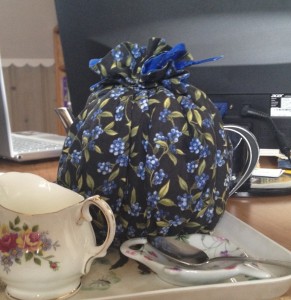 1) When writing, are you a snacker? If so, sweet or salty? I'm not a snacker, but there is always a pot of tea on my desk.
2) Are you an outliner or someone who writes by the seat of their pants? And are they real pants or jammies? My outline is non-traditional. I make monthly tables listing the events documented in the Anglo-Saxon Chronicle, then I insert the events that will occur in the book. It's tricky, figuring out when a character will give birth, then working backward to make sure all the appropriate players are in place for the conception! Or trying to determine how long it takes a ship/an army/a man on horseback to get from one place to another!
No jammies. I'm a jeans-and-a-sweatshirt gal.
3) When cooking, do you follow a recipe or do you wing it? I follow the recipe. It's part of my personality, I guess. When I was a kid, I colored inside the lines. As a teenager I rarely transgressed, although there was that time when I was "trunked" into the drive-in and…but that's another story.
4) What is next for you after this book? Because SHADOW ON THE CROWN is the first book of a trilogy, I'm currently hard at work on the sequel. All of my neighbors have read SHADOW, and now when I leave the house and one of them spots me I'm greeted with, "Why aren't you at your computer writing???" So yes, I'm working on that follow-up book.
5) Last question…on a level of one being slightly naughty and ten being whoo hoo steamy, how would you rate your book? Well, I would rate it a five, but naughty is not the word I would use to describe it. Sexual liaisons in medieval times – at least in my novel – were riddled with danger for women, even when sanctioned by the church. Pregnancy and childbirth could be deadly. I think that, almost unconsciously, I've added an element of risk to every sexual encounter in the book.
And now for the recipe! One of the launch events for my book was an Authentic English Tea, and since I am a lover of tea with all the trimmings, I can think of nothing better to share with you than my recipe for scones.
The Bracewell Scone
Makes 12 biscuits
Ingredients:
1/3 c currants
1 c boiling water
2 c all-purpose flour
3 T sugar
5 tsp baking powder
1/4 tsp salt
1/3 c butter
1 c milk
Method:
1. Preheat oven to 425°F
2. Soak currants in boiling water 5 minutes while preparing remaining ingredients.
3. Combine flour with sugar, baking powder & salt.
4. Cut in butter until it is in small pieces. Drain currents well, pat dry & add to mixture.
5. Pour milk over dry ingredients & lightly gather dough together with your fingers. Place dough onto a lightly floured board & knead 5 or 6 times.
6. Pat dough out to a thickness of ¾". Cut into 2 ¼" circles. Pat extra dough together lightly and cut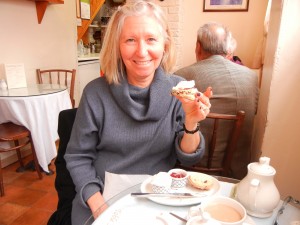 out more circles.
7. Place circles of dough onto a buttered & floured cookie sheet. Dust the tops lightly with flour.
9. Bake for 15 to 18 minutes.
And here are the authors who've participated up to this point. Take a look at their offerings! Thank you for stopping by!
Christy English Nancy Goodman Lauren Gilbert Lucinda Brant Prue Batten Anna Belfrage Ginger Myrick Jo Anne Butler Kim Rendfield Cora Lee Jessica Knauss