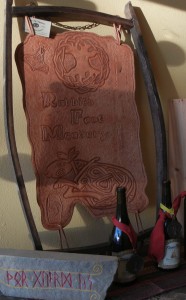 A writer of historical fiction has to endure numerous hardships as she conducts intense research into the period she is hoping to re-create in her book. Surely you know this. My own hardships, for example, included a glorious day of hawking in Northamptonshire, a day spent wandering, captivated, through the Viking Ship Museum in Roskilde, Denmark and, oh yes, there were those rigorous hours I spent at Rabbit's Foot Meadery in Sunnyvale, pestering the owners with questions about mead, and sipping from a glass of liquid gold.
Maria and Michael Faul are the owners of Rabbit's Foot Meadery, and Michael's own Viking roots can be discerned in his Irish accent as he stands beside the counter of his pub-like tasting room and waxes eloquent about the ancient process of making honey wine. His knowledge of mead and its production throughout history is obvious as he compares the methods of the ancients to the one he's developed over seventeen years as mead master at Rabbit's Foot.
"In medieval times they would have taken water and honey and boiled it. There would have been lots of things in the honey – bits of bees and wax – that would rise to the top and get skimmed off. I don't have to worry about that because either our modern honeys are settled or the mead is filtered after fermentation. My process is to just blend the honey and water, and warm it up enough to dissolve it. If you boil it you're going to lose some of the aromatic quality of the pure honey."
Modern mead makers, Michael explains, are now using varietal honeys like orange blossom, sage, star thistle, raspberry, or blackberry. The flower or fruit will have a specific floral aroma that doesn't necessarily carry through in the taste, but will give the mead the fragrance of the nectar source.
"So we use very specific honeys in all the meads we make, to keep that floral characteristic in the product."
There is more associated with mead, though, than taste, aroma and alcohol content. In early England and Scandinavia the meadhall represented an indoor world of shelter and comradeship that was a sharp contrast to the outside world of danger and exile. The tasting room of Rabbit's Foot Meadery conveys a similar sense of warmth and conviviality. Granted, a crossbow hangs on the wall, but it's a mere decoration.
The folks at the tasting counter are far less fearsome than medieval warriors. Drawn here by postings on Yelp or Facebook, they might be employees of the garage door company down the street, or the nearby offices of Google, Apple or Yahoo; or they might drive up in a UPS truck. And yes, occasionally there will be a Viking or two.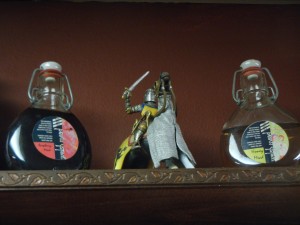 "Once a month," says Michael, "Kelly, one of the guys who works for us and is a member of the Society for Creative Anachronism, hosts a sword fighting tournament out in the alleyway. They've done it now for something like two hundred months in a row – the longest running individual tournament in the history of the SCA."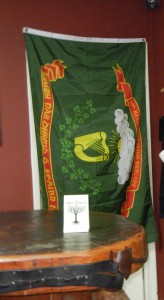 Behind the tasting room with its Celtic flags and display bottles of mead from around the world is the 5000 square foot chamber where the mead is fermented year round. In 2011 the meadery used fifteen tons of honey to make several different products that are all, technically, mead.  But not all mead is the same.
Michael explains. "You've got honey wine: water and honey injected with yeast and fermented, and everybody thinks it's going to be super sweet, but it can be anything from bone dry all the way up to dessert sweet." The sweetness of the mead will depend on the proportion of honey to water and the point at which fermentation is stopped. "When I started doing this I might have had maybe fifty batches of mead going in little five-gallon buckets, testing different versions of honey, different versions of yeast, finding out which one came out the best."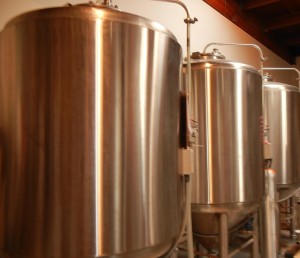 Now he has settled on a specific process, but he also has individual meads as well, each one made with a different honey and a different yeast designed specifically for that type of mead. And there are many types of mead.
"Add some apples to it and it's a cyser; put berries in it and it's a melomel; add cinnamon, ginger, cardamom, nutmeg and other spices and it becomes a methaglin; add pears and it's a perry; add grapes and it's a pyment. These are all medieval and early Renaissance terms for different styles of mead."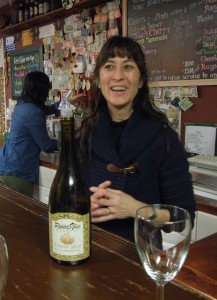 If a visitor is lucky, Maria might be pouring tastings from a bottle of the Mead of Poetry – aged eleven years and 18% alcohol by volume, or from the Chocolate Raspberry Love – a port made for the Renaissance Faire that tastes like a Godiva chocolate with a kick.
Then there are the braggots, which are beers brewed with honey, making them also a variant of mead. At Rabbit's Foot up to a quarter of the fermentable sugar in their beer is honey, and their very popular braggots and hard ciders are distributed under their Red Branch label.
In the tasting room, the Hard Black Cherry Cider is, hands down, the most popular libation with the clientele, followed closely by the traditional sweet mead and the raspberry mead. Often the room is crowded, frequently with regulars who have their own mugs hanging on the wall.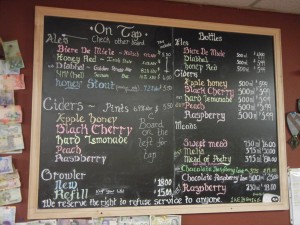 "We're bursting at the seams here now," Michael says, although the meadery's growth has been a long, organic one. "We might have only ten people in here one day, but fifty on another."
So it's time to move into a bigger space, far from the Sunnyvale industrial park where the meadery is located now. The Fauls own fifty acres in the Sierra Foothills and they hope to break ground this year on a Viking Long Hall where they will produce and serve the ambrosia that the Vikings loved. They expect to keep a small warehouse and tasting room in Sunnyvale, but the new location will allow plenty of elbow room for those lifting a glass.
I expect that one day I will have to visit that Viking Long Hall, since I have another historical novel in the works. After all, it's research. Meantime, I have my own little stash of Rabbit's Foot Mead on hand for those moments when I need, you know, inspiration.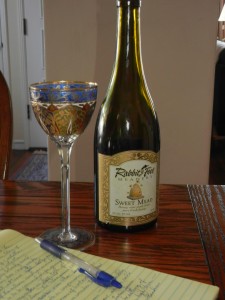 www.rabbitsfootmeadery.com