The life of Ludwig II of Bavaria was enchanted, tragic and bizarre. It would make a great opera (he was fond of Wagner), and for all I know someone has already written it. We took guided tours of two of the castles associated with him. Photography was forbidden inside, but we were told we could take shots through the windows, as the government has not yet figured out how to copyright the landscape.
The first schloss, Hohenschwangau, was a little getaway home where Ludwig and his certifiably mad elder brother (who was under care all his adult life) spent halcyon days in their youth with mum and dad. It has been a museum for many years, but looked much as it did when the family lived there, complete with a queen's apartment that had a secret door leading upstairs to the king's suite.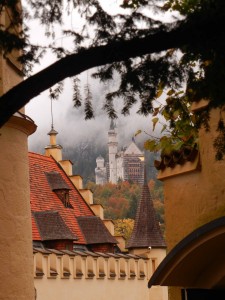 Neuschwanstein viewed from Hohenschwangau
The second schloss is an easy walk from the first one, even if it's hailing. (Oh yes, we're intrepid!) It is called Neuschwanstein (the swan was the emblem of the Bavarian royal family). You have seen it. Disney based his Sleeping Beauty castle on it. The outside is outrageously romantic, and the inside even more so – each chamber depicting scenes from one of Wagner's operas. There's even a cave.
The entire palace is a stage set, extravagant and opulent, built and furnished by a man to whom money was no object. It took 17 years to build, but Ludwig only lived in it for 192 days before he was arrested and deposed for his inability to comprehend the concept: Live within your means.
Two days later Ludwig and the doctor who had declared him insane were found drowned. Suicide? Murder? One of each? It's a mystery.