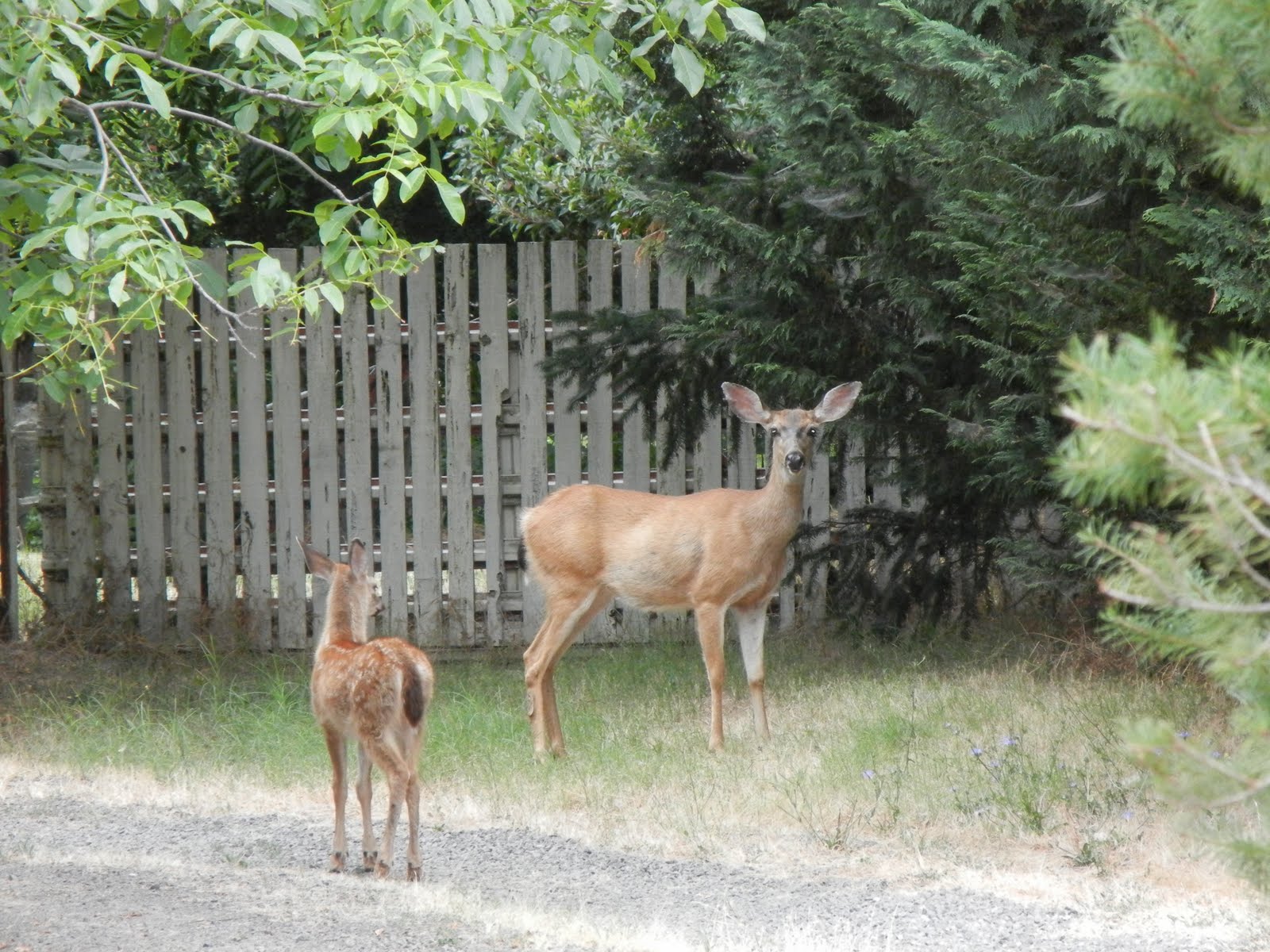 Not the Forest of Arden. We bumped into these two on our morning walk.
I've attended the Oregon Shakespeare Festival many times, but only this year did I discover the publication Illuminations: A Guide to the Plays. Published annually, it provides wonderful insights into all the plays presented in that year – whether a work of Shakespeare, Moliere or some 21st century playwright. There is far more information in Illuminations than you can find in the playbill, and I highly recommend it for anyone who attends the Festival. Now, about the plays.
August: Osage County by Tracy Letts
This has to be one of the most actress-centered dramas since Lorca's House of Bernardo Alba. There are five wonderful female roles in this play, and here at Ashland the actresses stepped into them with gritty relish. Screaming, shouting, wailing, cat-fighting, plate-throwing. Pills, alcohol, pot. Divorce, suicide, sibling rivalry. A smattering of incest. All right there on the stage among the members of 3 generations of Westons in Pawhuska, Oklahoma. This play carries family dysfunction to a new low, yet never so low that we want to look away. It was like watching a train wreck in slow motion: 3 and a half hours long, and every minute of it riveting. The playbill calls it a comedy, but if so, it was very, very black. I attended the drama with two psychiatrists, and when I glanced at them at each intermission (there are 2), they were grinning. We talked about it for an hour the next day. If at all possible, go see this play with your analyst.
Measure for Measure by W. Shakespeare
This play is all about sex. No question about THAT! But it's also the play that sent me scurrying to the bookshelves where I found Illuminations. I wanted some background because it is one of Shakespeare's "problem plays", and although I had my own theories about what the Bard was trying to do, I felt like I was groping in the dark.
The setting: 1970's America, in a town called Vienna, which has a decidedly Spanish flavor in this production in spite of the fact that the characters' names are all Italian. (Even Shakespeare wasn't going for verisimilitude when it came to setting.) The stage itself looked like a corporate boardroom, and it funtioned as well for a bordello, a jail, a courtroom and a monastery. There were some remarkable effects done with a long window at the back which added texture to the rather drab setting.
It took a while to get used to '70's hippies spouting Tudor English, but I got past that eventually and settled into the rhythm of the …..comedy? Could this play ever be acted as a true comedy? Well, there are some comic bits in the dialogue, and the Festival cast added some wonderful comic embellishments of their own. In all I think they did a terrific job with this play, although I am still not quite happy with the actress cast as Isabella. I wanted someone with a little more gravitas and a great deal more sex appeal.
This post is already way too long. More tomorrow.