Historical novelist and mystery writer Candace Robb is in the spotlight today as she celebrates the re-issue of her Owen Archer mysteries in brand new editions from Diversion Books, on sale today as e-books and next month as trade paperbacks. Her Margaret Kerr series will follow next month as well, and in 2016 Pegasus Books will be publishing The Service of the Dead, the first book in her new Kate Clifford series. Candace also writes as Emma Campion, author of The King's Mistress about Alice Perrers, and A Triple Knot about Joan of Kent.  I'm delighted to welcome her here today.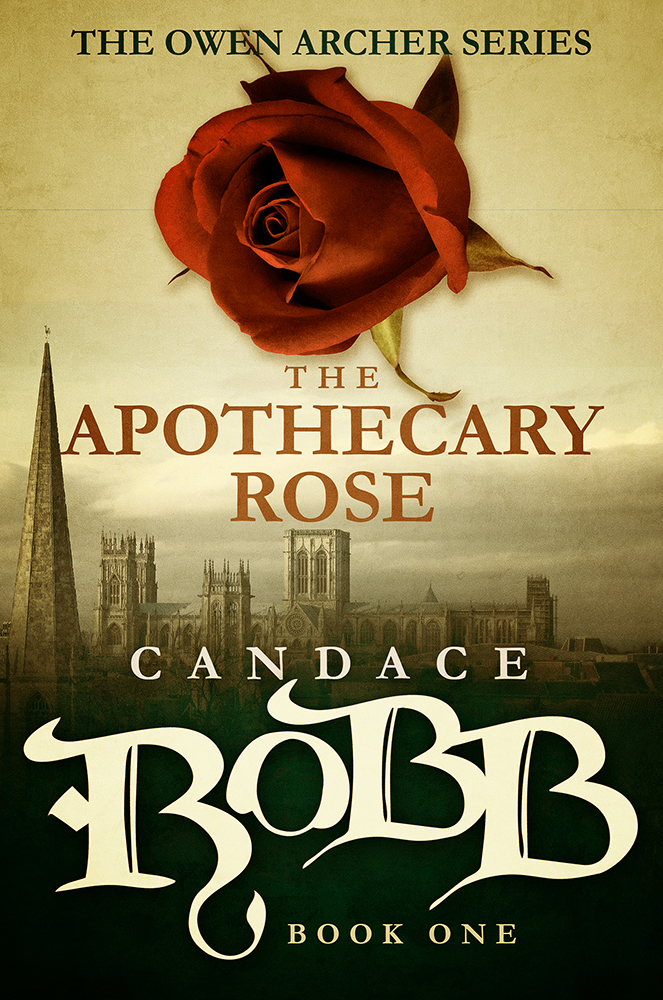 PB: For those who are as yet unfamiliar with the Owen Archer Mysteries, tell us how many years the novels cover, and give us a thumbnail picture of England at that time.
CANDACE: Book 1, The Apothecary Rose, is set in 1363; A Vigil of Spies in 1373. So I've made it through 10 years in 10 books. To put that in perspective with my other books, the series begins just about the time that A Triple Knot ends.
When the series opens King Edward III is on the throne, warring with France over Gascony, and has sent his son and heir, Prince Edward (now known as the Black Prince), to secure and govern the Aquitaine. The English hold Calais. John Thoresby is Archbishop of York, the second most powerful churchman in the realm (and in these novels his tenure as Lord Chancellor is extended so that he holds these titles simultaneously). England's star export is wool, and the king is manipulating the customs taxes to pay for the war and to secure the financial and military support of the Low Countries against France. York is a center for the wool trade in the North of England, the wool brought down from the great Cistercian abbeys on the moors and shipped from York through Hull and across to the Low Countries. The Mercers Guild is strong, the merchants wealthy and powerful in York.
PB: In the Owen Archer Mysteries we are, for the most part, down and dirty in the alleyways and taverns of medieval York with characters that you've invented. At the same time, the story is steeped in the history of the period. Does the plot spring from history, or do you decide to kill someone, and then place the murder into historical context? The Lady Chapel, the second book in your series, is an excellent example of this blending of larger historical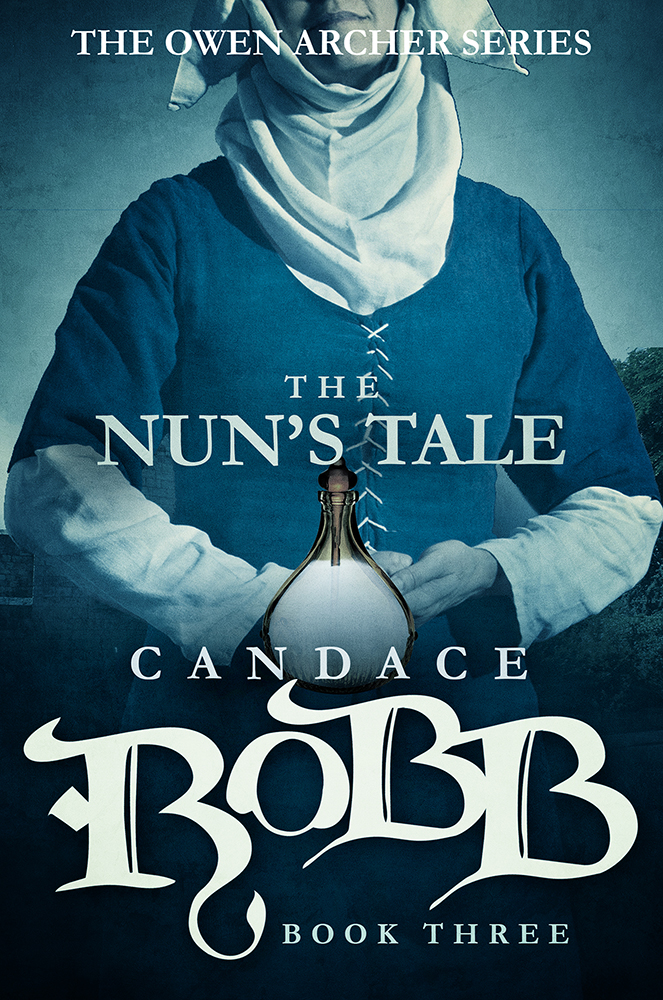 events and story.
CANDACE: For the most part, the plots spring from actual incidents or tensions in the year of the novel—I make a game of it, pondering how an incident or ongoing quarrel might lead to a murder in York, and how one of my ensemble cast might become involved. The Nun's Tale deviates from that in the primary mystery—I'd read about Joanna in a small history of Clementhorpe Nunnery and could not resist moving that incident in time so that she could become Archbishop Thoresby's headache, and, so, Owen's responsibility to solve. The same happened with The Guilt of Innocents, using the incident with the boys of St. Peter's school and the bargemen, but placing it in the historical background of that year with Hubert's father.
PB: Central characters in a novel change and grow as they make discoveries about themselves and the world that they inhabit. Does that character development continue over ten novels?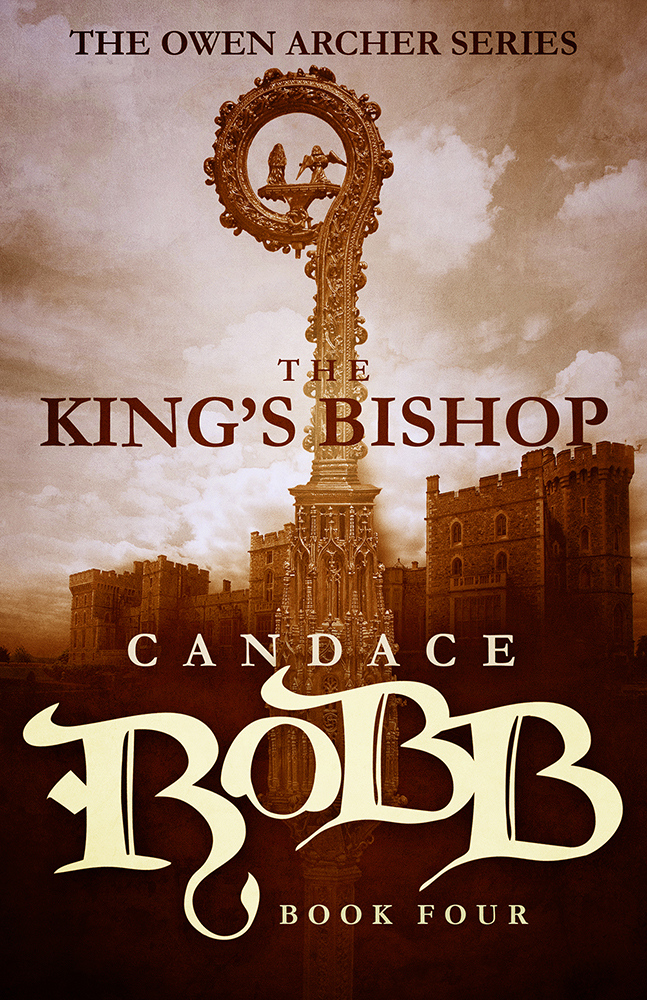 CANDACE: Oh, yes, and for me that is the enormous appeal of writing a series, the luxury of developing characters over a long period of time. John Thoresby mellows in the decade of these books, Brother Michaelo reforms, Lucie Wilton and her father reconcile and her strong aunt, Philippa, declines. Owen grows to feel that York is his home, but not before being sorely tempted by the building rebellion is his native Wales. Lucie matures into a woman who knows her worth. The young characters Jasper and Alisoun are particularly dear to my heart as they mature.
PB: You have written straight historical fiction in addition to your historical mysteries. Is one type of book more challenging than the other? If so, in what way?
CANDACE: I found the historical novels about Alice Perrers and Joan of Kent  more difficult to write than I do the mysteries. In the mysteries I'm in control of the plot, but in the fictional biographies I wasn't; my job was to flesh out the facts, show how they all connected, reveal motivations. I found it—perhaps not harder, but more frustrating than creating delicious characters, devising a crime, and then watching what happens—who solves it, how, who tries to prevent them from doing so. And I disliked not being able to provide Alice and Joan with the lives I came to feel they deserved.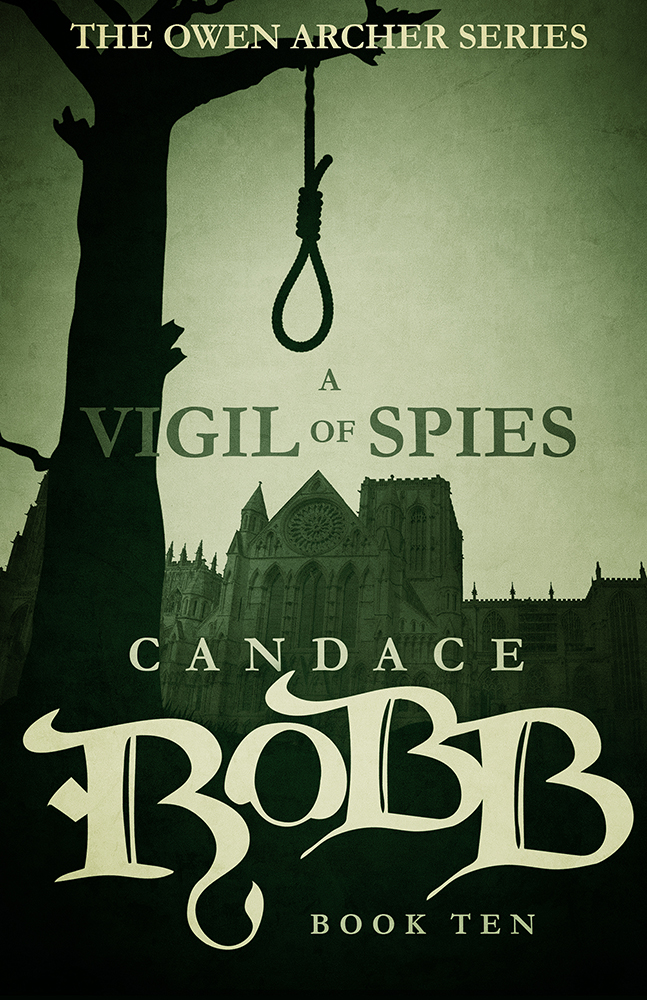 PB: Did you anticipate, when you wrote The Apothecary Rose, that it would be just the first book in a series?
CANDACE: By the time I was reshaping Lucie's story as a crime novel, I certainly hoped it might be the first in a series, but I was having a devil of a time figuring out who the detective would be. I wanted a character who would engage me for a long, long while. Bess Merchet was a possibility, Lucie's good friend who runs the York Tavern, but her range would be limited. And then one day I was reading about the Welsh archers, the strength required to handle the longbows used in battle, the stance, how important the left eye would be for a right-handed archer, and Owen Archer stepped out of my daydream and onto the page. Once Bess Merchet got a look at him she gladly moved aside. And I very much hoped it was the start of a long relationship.
PB: The central character of your first series was the retired-archer-now-spy Owen. The three books that immediately followed and now your new mystery series feature women in the central role? Why the change?
CANDACE: Well, let's face it, there can be only one Owen Archer. Hah! Well, actually, I had a practical reason for a female lead in my second series. I intended to alternate the Margaret Kerr and the Owen Archer novels, so I wanted the books to be sufficiently different that I wouldn't become confused about which world I was in. Scotland, in the midst of war, with a female protagonist—that did the trick for me.
The genesis of the Kate Clifford series has been quite different. Kate's kickass style and rogue attitude are a reaction to my frustration with the fates of the two remarkable women I've spent the past six years writing about, Alice Perrers and Joan of Kent. I loved spending the time with them, but I hated that I couldn't change their fates. There are several intriguing men in Kate's life, and I am half in love with two of them, but Kate's the boss. I'm reveling in it.
PB: How does your heroine Margaret Kerr differ from your new heroine, Kate Clifford? Do they have anything in common?
CANDACE: Hm… let's see. They're about the same age, married (in Kate's case widowed), childless (well, that's sort of true about Kate, you'll see….). Stubborn. Determined to do things their own way. They have both discovered that their husbands were not exactly who they thought they were. And that's about it. Margaret's far more romantic than Kate, and far less organized about her life; but then her home has been invaded by the English, the enemy. Margaret's skill turns out to be powerful, but quite different from Kate's pragmatism and fearlessness.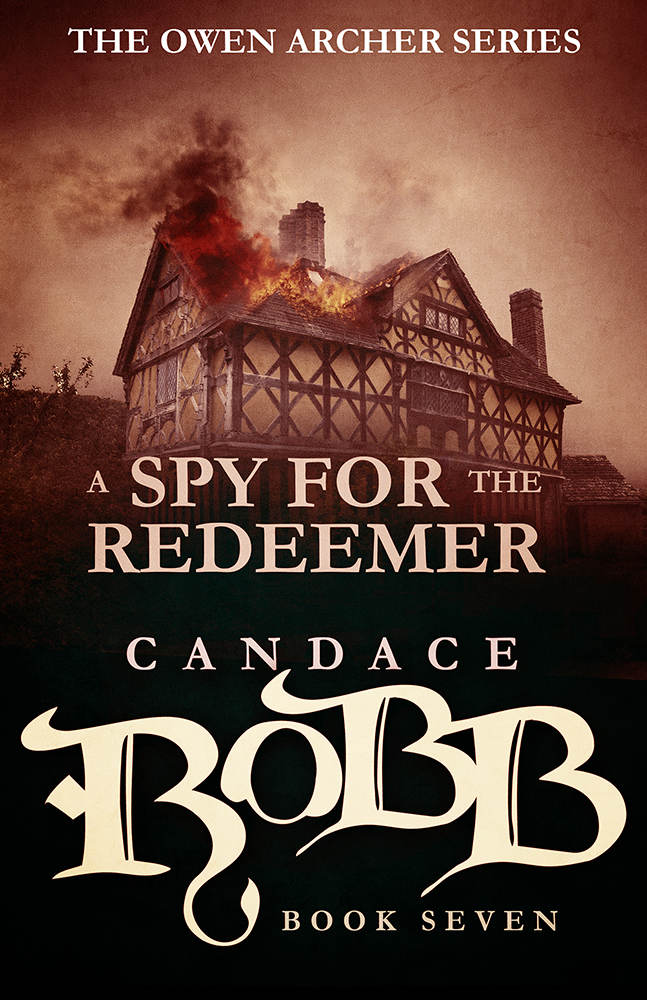 PB: In your very detailed research have you discovered any misconceptions about this period of history, the fifty-year reign of Edward III, that you've tried to rectify?
CANDACE: I've grown to appreciate the rising merchant class as remarkably cosmopolitan, as well as economically and politically savvy. And with the help of scholars such as Carole Rawcliffe (esp. her book Urban Bodies), I've realized how inaccurate the image of the filthy middle ages, at least in cities such a York, is, how both a sense of ethics and civic pride drove the citizens to create ordinances to promote communal health. Much of the image of filthy towns is a figment of the Victorian imagination. So I quite enjoy popping that bubble.
PB: You have said "I do like to weave a little magic into my stories." In medieval times of course, magic, religion and the physical world were inseparable. Can you give an example of how you used magic in your books?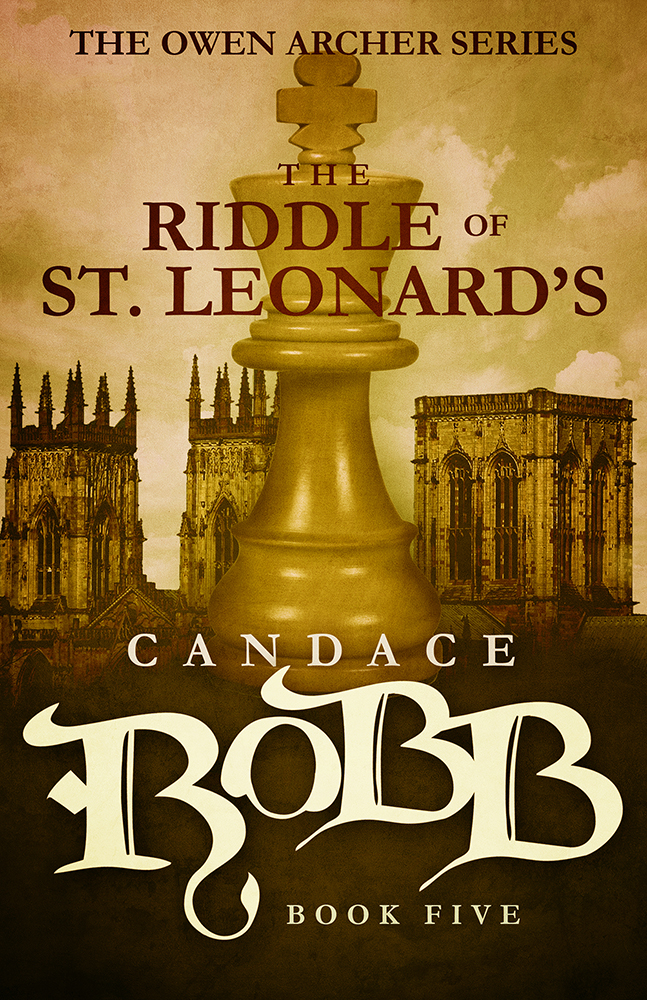 CANDACE: I use the term magic quite loosely, meaning mysterious, inexplicable. Women with some unexplained powers. The midwife/healer in the Owen Archer books, Magda Digby, rejects anything having to do with spells and magic, and yet she herself is a mystery. I enjoy teasing the reader with mysteries about her. How old is she? Where did she find the Viking ship that she uses as a roof? How does her house survive on a rock in a tidal river? How prescient is she? In the Margaret Kerr mysteries, Maggie's mother, Christiana, has the Sight, and both William Wallace and Robert Bruce are keen to use her visions to their advantage. As for the Kate Clifford series, well, I don't want to give away Kate's mystery, but it's there, and quite strong.
PB: Most of your historical mysteries are set in and around York, so much so that the city itself is practically a character in the books. Your love for the city comes through loud and clear. Can you put your finger on one place in York that is a favorite spot or is particularly inspirational?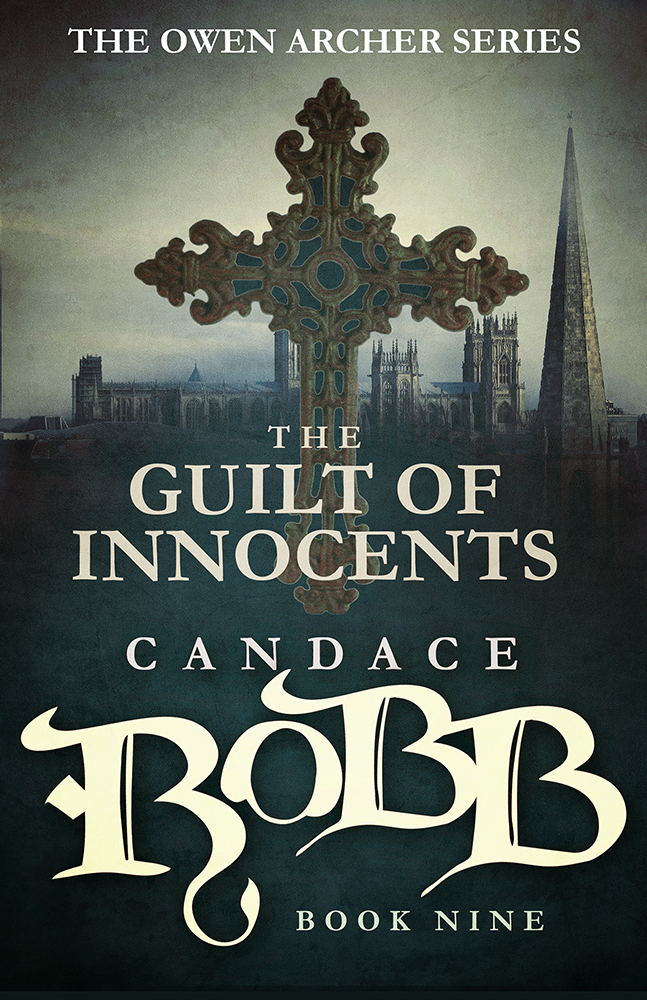 CANDACE: York Minster is the heart of York in my mind, and I use some of my favorite aspects of it in The Service of the Dead, the first Kate Clifford. In the Owen Archer mysteries I'd say the River Ouse is a particularly strong character, the rhythms of a tidal river—the city has lost that, with dams downriver. But I have been in York during a "400-year" flood, and I can imagine very well what it was like. It's also the setting, in the vale of York, surrounded by moors and dales. Wuthering Heights country.
PB: I understand that you worked with your editor on the covers for the new editions of your books. Can you share a little bit about that process?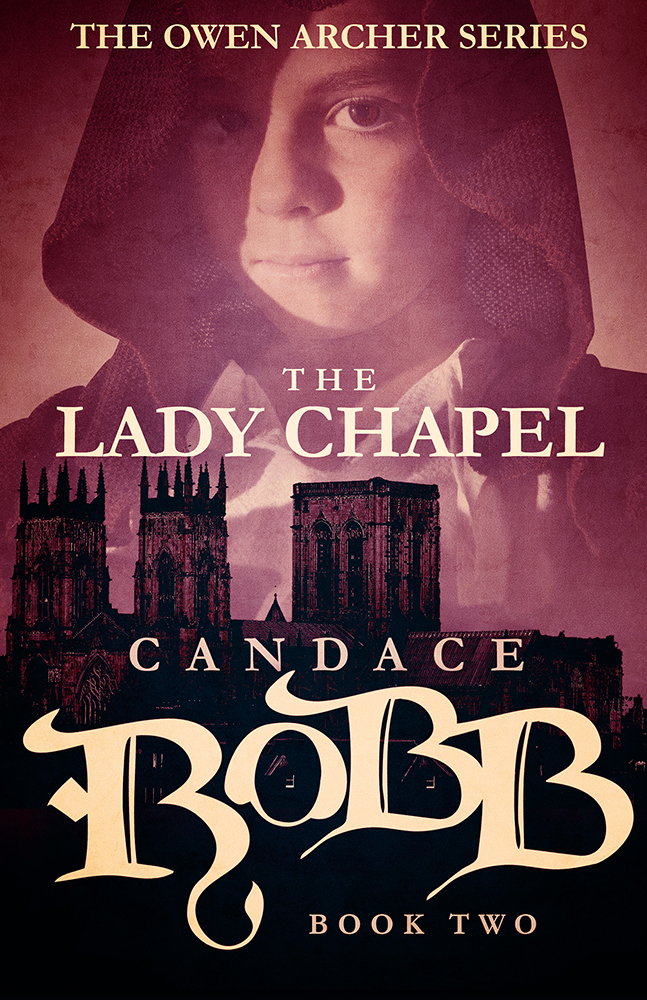 CANDACE: They wanted a series look for the covers and had little time to read through all nine books and get a sense of them. (We signed the contract in late May!) So I suggested they use a backdrop of the main location of each novel with a symbol in the foreground that has meaning for the particular book. For the Owen Archers they did just that, as you can see—the first was obvious, a rose, for the second I loved the idea of Jasper, the boy on the run, and so on. I have yet to see the Margaret Kerr covers—I'm counting on their having done likewise, using Edinburgh, Perth, and Stirling for the backgrounds, and the symbols I suggested in the foreground. It's been great fun to see they develop these! The team at Diversion Books is exceptional and incredibly, wonderfully responsive.
PB: I'm really going to put you on the spot now. Of the novels that are about to appear anew as trade paperbacks and e-books, can you narrow down a favorite?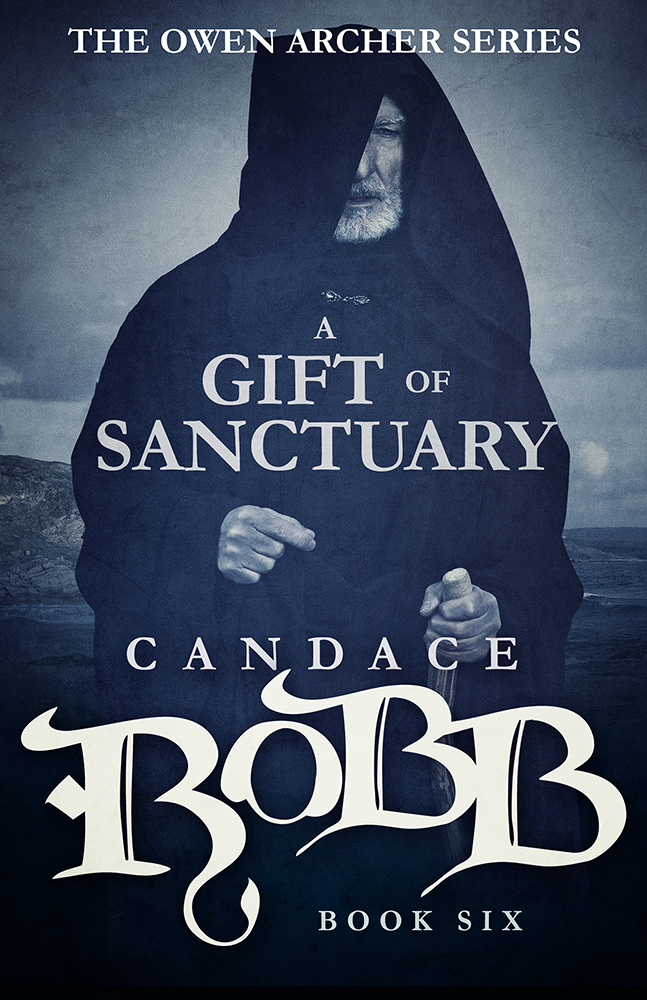 CANDACE: Nope. I've just skimmed all 12 of the books being reissued, and in each one at some point I was drawn in and forgot my hurry. The wonder of it is how much I still love these books! I'll give you this—I love the beginnings of The Lady Chapel, A Gift of Sanctuary, and A Trust Betrayed. I think they're my most evocative openings.
Great questions! Thanks so much, Pat!
Thank you for joining me, Candace. And congratulations on the new editions and on the publication next year of your new Kate Clifford series.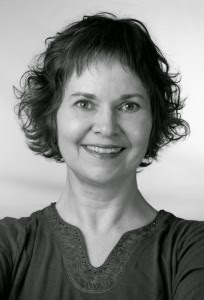 Candace Robb did her graduate work in medieval literature and history, and has continued to study the period while working first as an editor of scientific publications and now for some years as a freelance writer. She was born in the Blue Ridge Mountains of North Carolina, grew up in Cincinnati, and has lived most of her adult life in Seattle, which she and her husband love for its combination of natural beauty and culture. Candace enjoys walking, hiking, and gardening, and practices yoga and vipassana meditation. She travels frequently to Great Britain.
Candace's current passion is exploring fuller and more plausible interpretations of the lives of women in the 14th century than are generally presented.  She also writes historical fiction as Emma Campion.
Learn more about Candace and her novels at her website, www.EmmaCampion.com, on her Facebook page, and on Twitter: @CandaceMRobb.
You'll find all of her books available for purchase at your favorite bookstore or on-line retailer. And look for her new crime series featuring Kate Clifford of York in 2016.