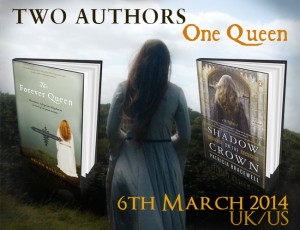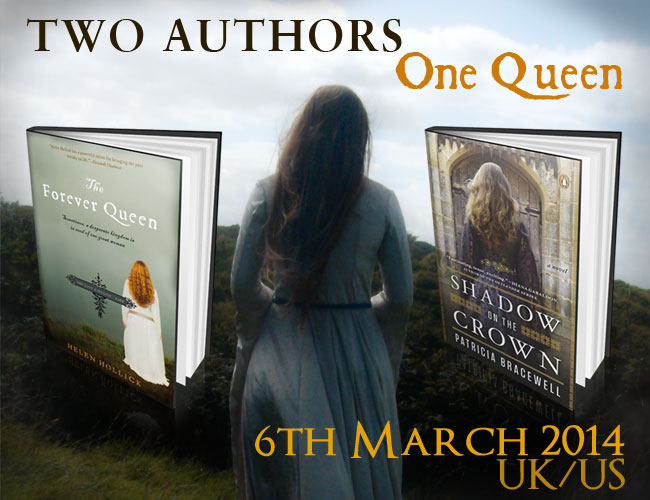 UPDATE: EVERYONE WHO POSTED A COMMENT WITHIN THE SPECIFIED TIME ON MARCH 6, EITHER ON HELEN'S BLOG OR MINE, WAS PLACED IN THE DRAW FOR THE BOOK GIVEAWAYS.

THE UK WINNER FOR SHADOW ON THE CROWN: Helen Hart
THE US WINNER FOR SHADOW ON THE CROWN: Leah Bergen
MANY, MANY THANKS TO THOSE WHO JOINED US FOR OUR MARCH 6 TRIBUTE TO THE 11TH CENTURY QUEEN,
EMMA OF NORMANDY!!!
Today we commemorate the 962nd anniversary of the passing of Emma of Normandy, Queen of England, an event that occurred on March 6, 1052. It is a joint effort by two novelists who have made Emma the central character in their books.
The Book: In Helen Hollick's novel The Hollow Crown (UK title)/The Forever Queen (US title), Queen Emma is smarter than history remembers and stronger than the foreign invaders who threaten England's shores. She risks everything on a gamble that could either fulfill her ambitions and dreams or destroy her completely.
The Author: Helen has also written a trilogy of novels about Arthurian Britain: The Kingmaking, Pendragon's Banner and Shadow of the King, as well as Harold the King (UK title)/I am the Chosen King (US title), the story of events that led to the Battle of Hastings in 1066. She also writes a pirate-based nautical adventure series, the Sea Witch Voyages. She lives in Devon, England.
The Book: Patricia Bracewell's novel Shadow on the Crown, the first book of a trilogy about a young Emma of Normandy, covers the early years of her marriage to a haunted English king. It is a tale of murder, intrigue, treachery and passion set against the constant threat of Viking invasion. In the midst of it all, Emma must make choices that will determine not only her own fate, but that of England as well.
The Author: Patricia's second novel, the sequel to Shadow on the Crown, will be published in 2015. She lives in Oakland, California.

During two different hour-long time slots today we will be online to answer YOUR questions and respond to YOUR comments.
Live Schedule for Helen's Blog: Helen Hollick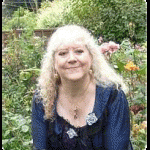 GMT: 2-3 p.m.
US Eastern time: 9-10 a.m.
US Central time: 8-9 a.m.
US Mountain time: 7-8 a.m.
US Pacific time: 6-7 a.m.
Live Schedule for Pat's Blog: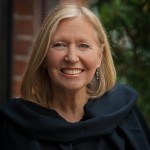 GMT: 10-11 p.m.
US Eastern Time: 5-6 p.m.
US Central Time: 4-5 p.m.
US Mountain Time: 3-4 p.m.
US Pacific Time: 2-3 p.m.
Below are our answers to six questions about Queen Emma and our books. After you read them, we hope you'll join us per the schedule above to chat. See below for GIVEAWAY and commenting info.

1. Why do you think that Emma of Normandy has been ignored by writers of historical fiction until now, and why has this changed?
PAT: I think writers just weren't aware of her. I certainly wasn't. Until fairly recently, even popular histories that dealt with English royalty started with William the Conqueror. It was as if England didn't exist before 1066. Writers like Bernard Cornwell and Rob Low, though, have set some pretty remarkable novels in pre-Conquest England. I think that through them, writers – who are all avid readers – are discovering a whole new cast of characters with fascinating stories.
HELEN: Until recently, the majority of pre-conquest English history has been ignored, not just Emma. That is why I wrote my novel Harold the King (title I am the Chosen King in the US). I was so fed up with English history books starting at 1066. We have a rich, varied and interesting line of history that goes back many centuries before Duke William of Normandy stole the English throne for himself. I wanted to redress the balance – and discovered Emma while doing so. It is wonderful that more and more readers and writers have finally discovered that there was life before 1066!
2. What line do you draw between fiction and fact in your novel?
PAT: Do Not Change History has been my rule of thumb. But there are so many gaps in the 11th century historical record that I had plenty of leeway to imagine motives, passions, relationships, and intriguing plot developments.
HELEN: I think it depends on what type of novel you are writing. If based on fact, then the facts that form the basic plot of the story should be as accurate as possible. If the story is pure fiction – especially if it contains an element of fantasy or alternate history, then it is not so essential to get the facts right. Having said that, it is the accuracy of a period that makes the book believable. Someone writing about the Battle of Hastings and placing it in 1067, not 1066, for instance, would not have their novel taken seriously.
3. What is it about the historical Emma that you find most intriguing or inspiring?
PAT: That in her maturity she commissioned the production of a book that essentially told her side of some of the events that occurred during her lifetime. Scholars call it the Encomium Emmae Reginae, and a copy exists today that dates back to Emma's lifetime. That it would occur to a woman in the 11th century, even a queen, to do something like that is pretty impressive.
HELEN: She was a remarkable woman. Her strength of character, despite many knock-backs is something to be applauded. However, she abandoned her sons by her first husband in order to re-marry, resulting in conflict and almost hatred between herself and her eldest son, Edward. I wanted to explore why this was – what happened to make these two people loathe each other?
4. Were there any events in your novel that you reinterpreted to suit the story? Can you give an example?
PAT: The destruction of Exeter is a good example of this. The Anglo-Saxon Chronicle blames Emma's reeve, Hugh, for betraying the city to the Vikings. In my story Hugh is forced into doing this because the Danes have threatened harm to the queen if he doesn't. He's not a traitor, but everyone in Exeter thinks he is.
HELEN: Yes, one major event in particular. My grandmother's name was Emma and she also was a remarkable woman. When my father was a small baby, Grandma became cut off by the tide on a beach in Yorkshire. To save herself and her son from drowning she climbed the cliffs, holding him in her teeth. Keeping in mind that this would have been done in corsets and stiff Edwardian dress – not to mention the actual event, this was an incredible thing to do. I wanted to include my Grandma's heroism in my story, so I placed the event as Queen Emma's ordeal.
5. What scene in the novel was the most difficult to write?
PAT: A violent scene between the king and Emma. Anyone who's read the book will know the one I mean. It was difficult having to imagine that scene. At the same time, given the characters that I'd created, I felt it was inevitable. It had to happen, so I had to write it.
HELEN: Several of the scenes with Æthelred were difficult as I discovered that I loathed the man (probably as much as Emma did!) As a writer it is really difficult writing a character you dislike sympathetically. I had the same problem with Duke William in the follow-on novel Harold the King (titled I Am the Chosen King in the US). How I dislike that man! I remember Sharon Kay Penman giving me some sound advice for this sort of situation: 'Think of something good about the character.' Hmm, I couldn't think of much that was good about Æthelred!
6. Your titles are very different, given that your books have the same central character. Can you each talk about your titles?
PAT: There are three viewpoint characters in my novel besides Emma, and I came up with Shadow on the Crown because for each of these characters there is a shadow that hovers over the crown and over the very concept of queenship or kingship. It is different for each of them.
HELEN: My UK title is fairly similar, A Hollow Crown. I found it a very fitting title because even though Emma held power and status during her second marriage, it was all taken from her by her son. My US title The Forever Queen, was mutually decided by myself and my US publishers, Sourcebooks Inc. I do prefer Forever Queen as a title – the US edition had an extensive re-edit which polished the novel quite considerably.
GIVEAWAYS!
Both Pat and Helen are giving away two copies of their books, one book each for the UK and one book each for the US so there will be 4 prize winners!
All you have to do to enter the draw is…LEAVE A COMMENT BELOW & state if you are a US or UK resident. NOTE: Only comments left on this blog or on Helen's blog will count – not Facebook or Goodreads, etc. Giveaway entries accepted all day until midnight, Pacific Time.

NOTE: To reveal new comments, you must refresh the page.
We will be responding to comments all day long, but we will only be LIVE during the scheduled hours. If you cannot comment for some reason, send an email to pb@patriciabracewell.com or to author@helenhollick.net and we will post it for you.