It is nearing mid-November, a time of thanksgiving and reflection. I find myself looking back with gratitude to friends, colleagues and readers on a year that has been an enormously eventful one for me; and I'm looking forward with anticipation to events in the year to come. I thought I would take a moment to share some of them with you.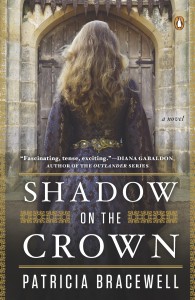 The U.S. Penguin paperback edition of SHADOW ON THE CROWN will be released on December 31. The cover remains the same as the hard cover edition, although a tiny Penguin has taken up residence in the novel's upper right-hand corner. I am hoping that Book Clubs all over the country will want to dive into the 11th century world of Emma of Normandy, and that any who want to connect with me in person or from a distance via phone or Skype will contact me through this website. I've attended a number of Book Club meetings in California, addressing questions put to me about the book, the research, the characters, the history and my writing process. We've had some lively discussions and I'm looking forward to meeting with as many Book Clubs as may wish to have me.
There are, as well, some bookstore, library and festival events being planned for 2014. The first of these will take place on Saturday, February 1 in Berkeley. The 20th Annual Festival of Women Authors is a fundraiser for the Berkeley YWCA, a most worthy cause. I will be speaking along with authors Kelly Corrigan, Anjuelle Floyd and Liz Jasper, and attendees will be treated to continental breakfast, lunch and a book signing as well as the company of four writers sharing their passion.  If you live in the San Francisco Bay Area I hope you will consider joining us.
There will be more events in conjunction with the publication of the SHADOW paperback, so keep an eye on this website and on my Facebook Author page for postings.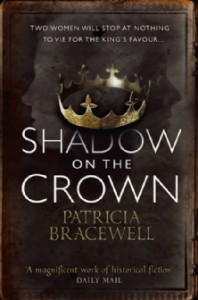 The HarperCollins U.K. paperback edition of SHADOW ON THE CROWN will be released on January 2, 2014. As you can see, the new cover design is very different from the hard cover edition! I adore all of my book covers, and I'm of course very excited about this new one with its shadows and crown.
Speaking of the UK, as some of you may know from a previous blog post, I shall be taking part in the Gladstone's Library 2014 Writer-In-Residence Scheme. The Library is in Hawarden, Flintshire, Wales. Built in 1902 to house the book collection of Prime Minister William Gladstone, it is the UK's only residential library. For two weeks next autumn I shall be living there as I work on the third book of the SHADOW trilogy as well as participating in Gladstone's Hearth Literary Festival. As you may imagine I am excited and honored to have been chosen as one of the Library's nine Writers-in-Residence over the next twelve months, and I am hoping that some of my readers in Britain will find their way to Wales for the Hearth Festival at the end of October.
In other news, SHADOW ON THE CROWN will soon be published in Brazil and in Italy, and foreign language rights have been sold as well to a publisher in the Ukraine. Emma is going to RUSSIA!!! I do not have publication dates for these foreign editions yet, but I will be posting them when I hear something. An added plus: I will get to reveal more new book covers!
Many readers have asked when the sequel to SHADOW will appear in bookstores. We are shooting for early 2015. It seems like a long time between books, I know, but aside from the writing and editing (no small task) there are decisions to make about everything you see in the book: title page, fonts, cover, maps, glossary, acknowledgments, author's note. The publication of a book is a huge undertaking, and my editor and I are both sticklers for detail. It all takes time.
The past year has seen me signing books from Seattle to San Diego and from Los Angeles to London.  I've visited Phoenix twice to talk about Emma (thank you Poisoned Pen Bookstore and Friends of the Maricopa County Library, Sun Lakes), and I've even managed to work in vacations in Oregon and Scotland when I wasn't talking or writing or blogging.

Actually, now that I think about it, I was ALWAYS talking or writing or blogging. In the coming months I'll be writing posts about my travels, sharing photos, and keeping you updated on what's to come.
Again, thank you to the many old friends and to a host of new friends, in person and on line, who have supported me in this marvelous adventure. I am fortunate that you are part of my world.