In Roger Ebert's review of the film Harry Potter and the Deathly Hallows (Chicago Sun-Times, Nov. 16, 2010) he describes a scene in a place where "rocks have been riven by deep cracks." He goes on to observe that the location must be computer generated, since "…I doubt that Harry would have skipped so casually over these cracked stones if they were real."Mr. Ebert, I beg to differ, because in 2009, I skipped (okay, trod warily) over those same stones. They can be found in the southwestern corner of the Yorkshire Dales National Park, which is about a 90 minute drive from Manchester.I discovered them one October day when my husband, my son and I set out from Manchester for a day excursion to the Yorkshire Dales. We drove to Malham, a village with a history that dates back to the Anglo-Saxons at least, because it's listed as Malgun in the Domesday Book (A.D. 1086). It's a small, pretty village of grey stone houses, b&b's, a hostel, the park center, and some tearooms where hikers can revive themselves after their wanderings.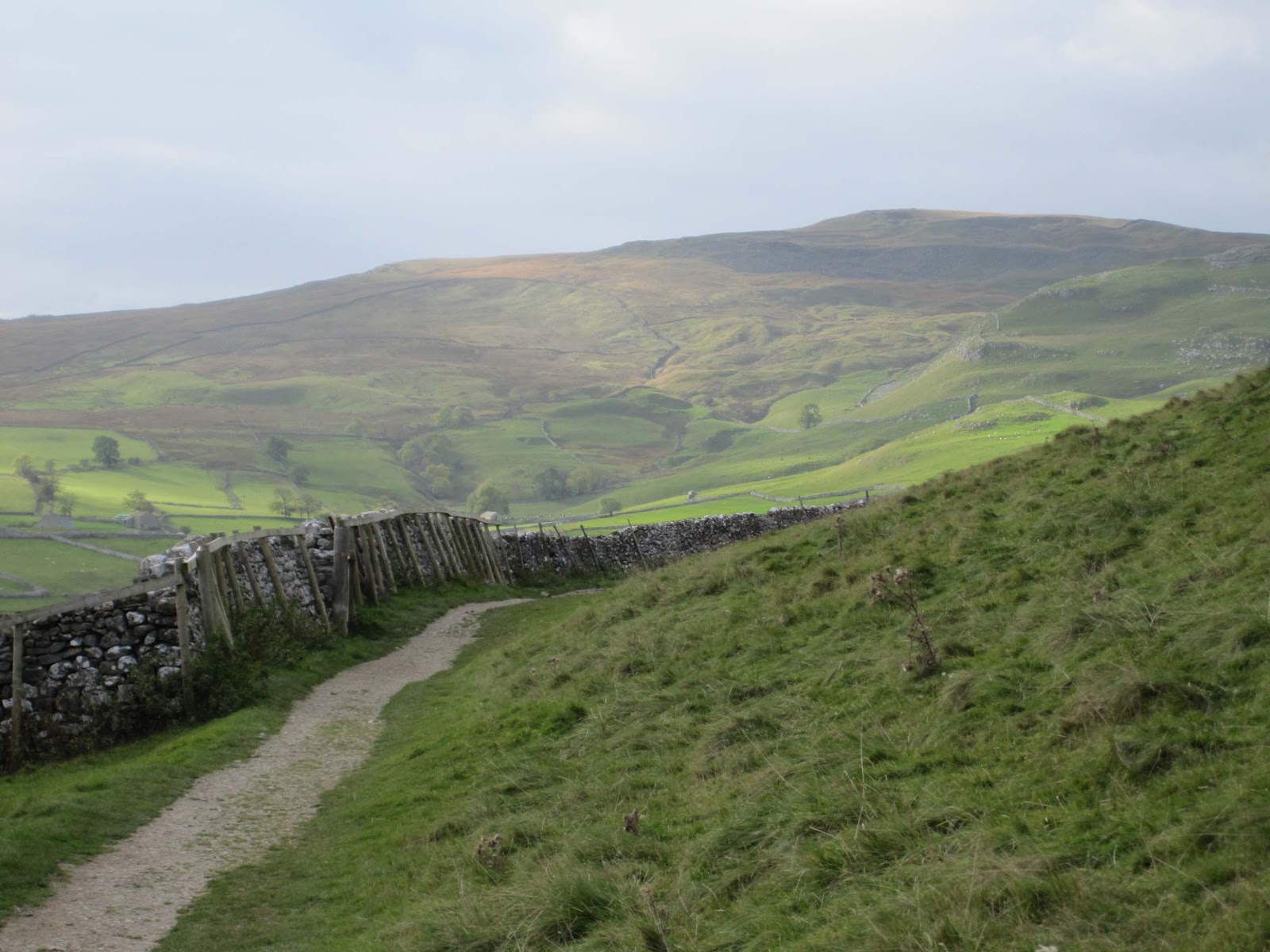 We made our way through a gorge called Gordale Scar – a beautiful, almost menacing place between high rock walls, with a waterfall at the far end, before retracing our steps back through the gorge and over a bridge into a field containing the remains of an Iron Age settlement. Sinuous rock walls formed pastures for sheep and cattle on the boulder-strewn hillsides. In some cases the stones were clustered in groups, and because they were about the same size and color as the grazing sheep, it was easy to imagine that some malevolent fairy queen (or wizard) with a grudge against sheep had turned the poor things into stone. You had to stare hard to determine what was alive and what wasn't. Eventually our path led us up a grassy hill and through a stile onto what is known as Malham Cove.

Malham Cove was a truly astonishing sight from a distance, and even more so when we were right on top of it. Beneath our feet the limestone pavement was fissured and cracked so that we had to step over the gaps as we walked. The deep fissures (grykes) were formed after the most recent Ice Age, when rainwater drained into the joints in the rock and dissolved the limestone. The pavement covered a broad area on top of a cliff 260 feet high. There was nothing to prevent us from walking right up to the edge where, below us, rock climbers were scaling that vertical cliff.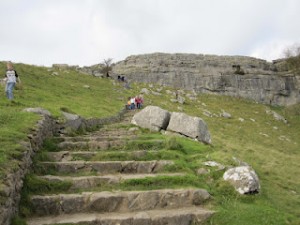 Hiking down from Malham Cove.
A year later when, to my surprise, I watched Harry and Hermione on the big screen atop those cracked and sullen rocks, I laughed. I knew exactly where they were. Mr. Ebert, you would love this place!