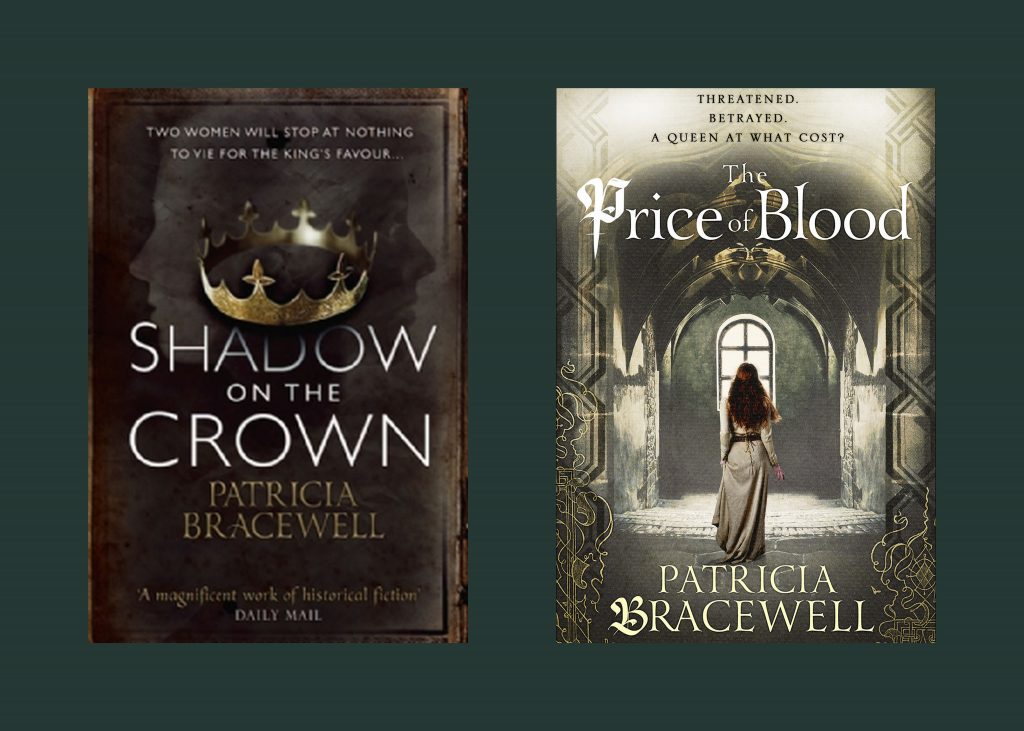 My current work in progress is the third book of a trilogy about the 11th century queen of England, Emma of Normandy.
Why write a trilogy, you may wonder. Why not put the entire story into one book? Maybe, you think, I began to write a single book, but the story just got away from me. Or was it possible that I knew it was going to be a trilogy back when I began to write it? (In 2007, if you're wondering.)
In fact, I knew from the start that this had to be more than one book. It seemed to me that I would not only have to tell Emma's story, but I would also have to include the very complicated history of the world she lived in and immerse readers into it. Either I was going to write more than one novel, or it was going to be so long that no one would want to publish it—not that I had any inkling, when I began, that it would ever get published.
I'd already spent several years researching Emma, the Normans, the Anglo-Saxons, the Vikings, and the history of late 10th and early 11th century England, and before I wrote a single word, there was a very big decision I had to make:
How much of Emma's life story was I going to tell?
That was a dilemma, because Queen Emma lived well into her sixties, perhaps even into her seventies. Almost immediately I decided that I did not want to write a novel that would cover, say, fifty years, for the simple reason that I did not know how to do it, even in a trilogy, without diluting the drama that I felt was inherent in Emma's story. One thing I did know was this:
It is drama, conflict and change –those things that we hate in our own lives—that make the imaginary world of a novel so compelling.
So in contemplating my novel, I needed to focus on the drama. I had discovered that there were two distinct periods of Emma's life that were fraught with conflict: the 16 years of her marriage to King Æthelred of England which began when she was probably about 16, and another period of nine years when she was in her 50's. Both periods were marked by turmoil in Emma's life and by massive unrest and political upheaval in England.
It was that earlier period, when Emma first arrived in England, that intrigued me the most. I wanted to explore the difficulties that she must have faced as a young, foreign queen. I wanted to write a story that would reflect the turbulent history she witnessed, explore what she must have lived through, and imagine for myself the emotions she must have experienced.
Most importantly, I wanted to present the unrest of that time, not from the viewpoint of a king or a warrior, but from the viewpoint of a woman. The men's stories—those tales of heroes in mail with their swords and shields—have been told over and over; it is the women's stories that have gone largely unrecorded. That was my challenge: tell the story that hasn't been told.
In the process I have created 68 characters, most of them historical figures, including their backgrounds and detailed descriptions. I have researched and imagined 11th century England, Normandy and Denmark, including 25 different towns. I have had to envision churches, great halls, royal chambers, ships, manors, abbeys, tents and army camps—and fittingly furnish each one of them.
I have had to make up a great deal of Emma's story due to the simple fact that there was no monk sitting on a stool in a corner of the great hall or the royal bedchamber taking notes about what the king, the queen and their retainers and attendants said to each other. Emma didn't keep a journal. There are no letters extant from her or anyone who knew her, and even many of the annals that were kept at the time have been lost. Most of what we know was written after the people involved were already dead. It has been a difficult task to write Emma's story—much more difficult than I first imagined. It has filled my life now for nine years, and I'm not finished yet.
I do not regret a moment of it.
Why do we read and watch and listen to stories? We have been doing these things since our ancestors first gathered around their fires in the dark or drew pictures on cave walls. Stories fascinate us. We fall into them, we fall in love with the characters we meet in them, we draw inspiration or insight from them, we experience emotions through words printed on a page.
I set myself the task of creating that emotional rush—first for myself and then for anyone else who would read what I'd written. That meant I had to whittle sixteen years of 11th century history, and sixteen years of a woman's life along with her hopes and fears and a myriad of decisions, into manageable chunks, I had to take readers into another time and place,  introduce them to individuals with odd names they had never heard before, and occasionally fling words at them from an English language so different from our own that it is unreadable to anyone who has not made a study of it.
That meant I had to write…a trilogy. Three books, yes; but one story about a once-powerful woman who had been forgotten but who deserved to be re-introduced to the world.
Her name was Emma.