"Be sure you go into the church and look at our Burne-Jones window."
I had just arrived in Hawarden, Wales and was being escorted up two flights of stairs to my room in the residence wing of Gladstone's Library when my guide mentioned St. Deiniol's Church and its window.
"Burne-Jones?" I asked, a little breathless from the climb. "The Pre-Raphaelite Burne-Jones?" As if there was any other artist by that name who designed stained glass windows.
"That's the one," she assured me.
I've been a long-time fan of the Pre-Raphaelites and the Arts and Crafts movement, and had seen exhibits of their work in museums in San Francisco, New York and London. I hadn't expected to find a window by Burne-Jones in a parish church in this small village in Wales.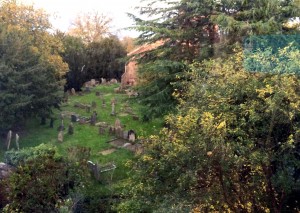 From my bedroom I could see St. Deiniol's churchyard, and I soon learned that there had been churches on this site dedicated to the 6th century Welsh saint for over a thousand years. Some elements of the current edifice have been traced back to the 14th century, but St. Deiniol's had been through several restorations and one fire, and as a result, most of it was now 19th century work. Still, once I was inside, it felt awfully old to me.
I made a number of visits to the little church over the next two weeks, slipping in for quiet contemplation. There were, I discovered, several Burne-Jones windows, but the real stunner was the 1898 west window.
It portrayed a Nativity scene, and anyone familiar with the Pre-Raphaelites would recognize the Burne-Jones style in the designs incorporated into the fabrics portrayed and in their lush draping. Like much of Burne-Jones' work it suggested the medieval. The Pre-Raphaelites were inspired by the medieval past, and Burne-Jones' gave his artwork a dream-like quality, more beautiful than the middle ages could possibly have been.
This was not the first nativity scene of his that I'd had the good fortune to see. I'd visited Oxford's Exeter College church the year before where a tapestry, The Adoration of the Magi, hung. The works were quite different, but both were memorable. When you've seen a piece by Burne-Jones, you don't easily forget it.
There were other artistic elements within St. Deiniol's that moved me. On the wall of a side chapel an angel plucked the strings of, appropriately, a Welsh harp. Spanning the nave was a carved wooden cross that I thought quite unusual.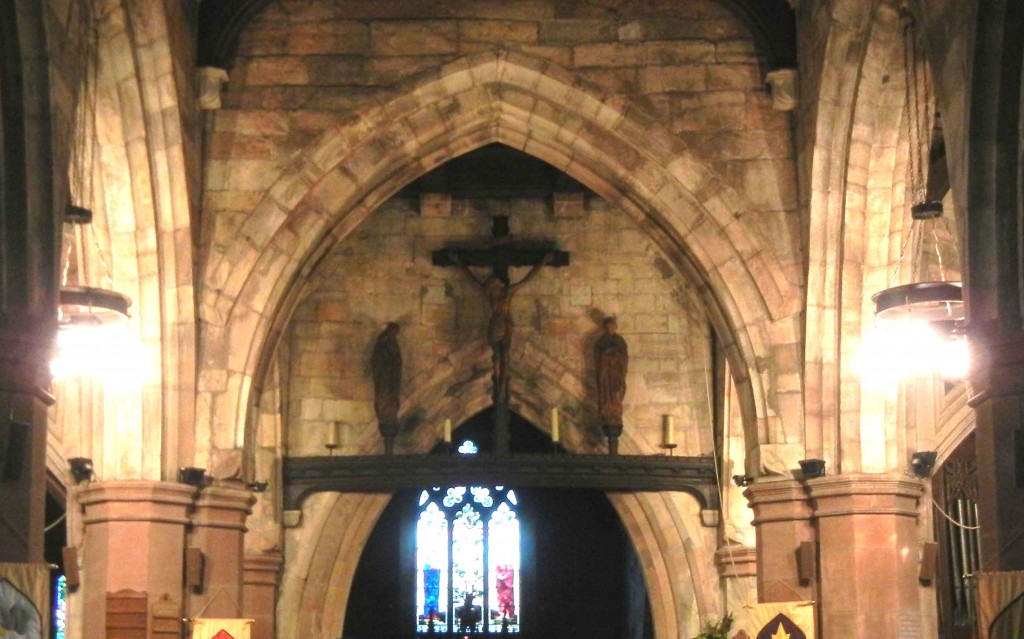 It had been placed there in 1915 to commemorate William G. C. Gladstone, who was killed in France only three weeks after he had arrived at the front. His tragedy, like so many others, has been commemorated across the nation every Remembrance Sunday, and 2014's centennial year would be no exception.
On the north side of the church there was a monument dedicated to former Prime Minister William E. Gladstone, the grandfather of that younger William who died in the Great War, and the founder of the library where I was studying. An angel hovered over the bronze sculpture of Gladstone and his wife, Catherine, lying side by side, and everywhere there were memorials to relatives and to parishioners whom they would have known. In fact the church was crowded with memorials and memories. It was crowded with the past.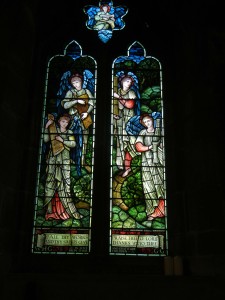 The past, of course, was my reason for being in Wales at all. And so I spent most days studying Anglo-Saxon history in the library while occasionally making my way to the little church that had its history in its walls and, thanks to Edward Burne-Jones, in windows that so beautifully evoked the medieval.