Emma,
a gem more splendid through the splendors of her merits…
So begins the epigram written late in the 11th century by Godfrey, prior of Winchester, in honor of Emma, Queen of England.
Queen Emma died on 6 March, 1052, at age – well, actually, we don't know how old she was. Although her death was mentioned in the Anglo-Saxon Chronicle and was commemorated annually by prayers at Winchester's New Minster, at Ely Abbey and at Christ Church Canterbury, her birth date was never noted. We can be certain, though, that she lived to be at least 60 years old, perhaps into her 70's, and that for 32 of those years she was a queen of England.
Although most people today will look at you blankly when you mention her name, Emma of Normandy would have been familiar to the people of England, Normandy, and Scandinavia during her lifetime and for many decades after that. How do we know? Well, to begin with, we have two contemporary drawings of Emma – and that in itself is remarkable.
In addition, she may be one of the few female figures stitched into the Bayeux Tapestry. (Not certain about that, but it could be Emma. Rabid medievalists have been known to argue passionately about it.)
And in the 12th century an unknown artist illustrated a manuscript of a Life of Edward the Confessor with beautiful color images of Emma.
There are textual references to Emma, too. She appears in one of the Norse sagas (Liðsmannaflokkr), and is mentioned in German, Norman and Anglo-Saxon chronicles. During Emma's lifetime she commissioned a book to be written about events she witnessed or which impacted her in some way. It is known today as the Encomium Emmae Reginae, and it was certainly read and discussed at the Anglo-Danish-Norman court where she reigned as queen mother. More than 500 years later a copy of that book was owned by William Cecil, chief advisor to Elizabeth I, so it's quite possible that the great Tudor queen, too, was familiar with Emma's name and reputation.
And then there's the play. Emma appears as a character in an Elizabethan drama titled Edmund Ironside. I've read it. It's not a very good play, although at least one scholar thinks it may have been written by Shakespeare. If he's right, it would have been a very early work. But Emma is in there, so someone in the 16th century knew her story well enough to imagine her as a real woman, a mother and a queen.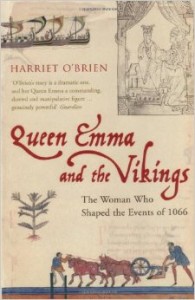 Scholars of medieval history, of course, have always known about Queen Emma. Many eminent historians – Alistair Campbell, Helen Damico, Simon Keynes, Eleanor Searle, and Pauline Stafford – have looked closely at Emma's career. Their in-depth studies have informed recent popular biographies by Isabella Strachan and Harriet O'Brien. They've also inspired novelists such as Helen Hollick (I am the Chosen King), Dorothy Dunnett (King Hereafter) Anya Seton (Avalon), Justin Hill (Shieldwall) who cast Emma in supporting roles.
But when it came to popular recognition, Emma could not hold a candle to Eleanor of Aquitaine or Anne Boleyn – a situation, I am happy to note, that appears to be changing.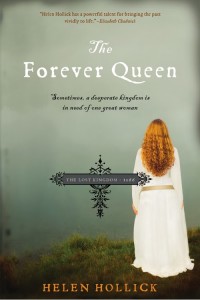 In 2005 British historical novelist Helen Hollick made Emma the central figure of her book A Hollow Crown, which appeared in the U.S. in 2010 as The Forever Queen. Readers loved it, and awareness of who Emma was began to spread.
My own novel about Emma, Shadow on the Crown, was published in 2013 in North America, Britain and the British Territories. It has since been translated into four languages, which means that readers in Russia, Germany, Italy and even Brazil are becoming acquainted with Queen Emma. The sequel The Price of Blood, was released in 2015. It continues Emma's story and will be followed by a third book to complete the series.
So, through the efforts of scholars, of historians, of novelists who love history, and of readers who love historical fiction, this remarkable woman is once more being recognized as a significant figure in English history. On this day, 964 years ago, she left this middle earth. I am thinking of her today – as I do every day, actually – with admiration; and I salute all those who are helping to spread the word about Emma of Normandy, the all-but-forgotten, twice-crowned queen of England.