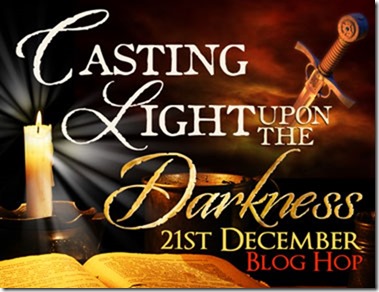 Perhaps one of the darkest eras in England's history was the Viking Age. For over 200 years, from roughly A.D. 793 to A.D. 1017, bands of Viking raiders attacked the Anglo-Saxon kingdoms of Britain. The entry for A.D. 793 in the Anglo-Saxon Chronicle describes the first attacks this way:
This year came dreadful fore-warnings over the land of the Northumbrians, terrifying the people most woefully: these were immense sheets of light rushing through the air, and whirlwinds, and fiery dragons flying across the firmament. These tremendous tokens were soon followed by a great famine: and not long after . . . the harrowing inroads of heathen men made lamentable havoc in the church of God in holy-island, by rapine and slaughter.
That scene would be repeated over and over for generations. In A.D. 878 things were so bad that the ruler of the last remaining Anglo-Saxon kingdom, Alfred, was driven into the fens of Somerset where he spent a miserable winter before he was able to rally a force to beat back his Viking enemies. Much later, in A.D. 1013, things were even worse. For a time England was completely in the hands of Vikings, and the English King Æthelred II ruled over the Isle of Wight, 40 ships, and not much else. It was a grim time, indeed. (It would happen again.)
Yet despite enduring the horrors of pillage, rape and slaughter that came with the Viking onslaught, the Anglo-Saxons  produced a marvelous body of art that reflected the resilience of the human spirit — a beacon of light in a very dark time. They created wonderfully inventive and exuberant images with whirling spirals and endlessly lacing lines, examples of beautiful craftsmanship that were a high point of early medieval art, and that drew the mind to contemplate the wonders of nature and the glory of God. Kings and nobles commissioned such works to honor the Creator and to manifest, through Him, their authority.  Much of what is left to us from that time were treasures that decorated the halls, monasteries and churches of England.
One of the earliest examples of Anglo-Saxon art is the 8th century book of Lindisfarne Gospels, which shows a strong Celtic influence in its graceful, curvilinear decoration combined with the geometric patterns and animal motifs favored by the Anglo-Saxons.
Anglo-Saxon delight with animals, with puzzles, with the play of light against dark can be seen in metalwork, too; in brooches, sword hilts and armor.
Unfortunately, the beautiful work that they created was admired by the Vikings, too. Some things they took and kept, others they destroyed. Some they held for ransom. One of these was a magnificent 8th century gospel book, the Codex Aureus.  Seized by a Viking war band in the 9th century, it was redeemed with pure gold by a nobleman and his wife, who recorded the event in the margins of one of the book's gold-adorned pages.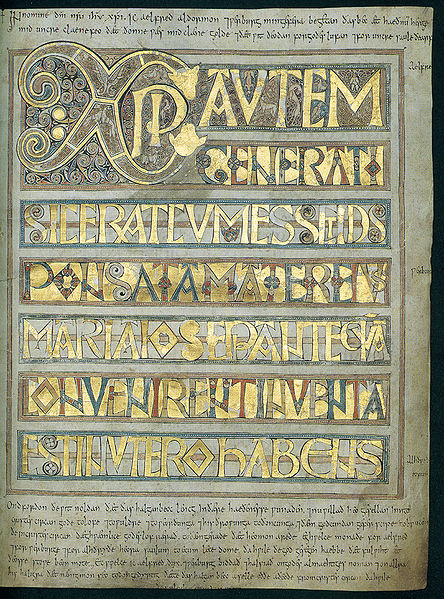 Much of the beautiful treasures, though, were destroyed in those 9th century raids; so churches were rebuilt and new works commissioned. The reigns of Anglo Saxon kings Alfred (871-99), Æthelstan (924-39) and Edgar (957-75), in particular, were eras of industrious artistic creativity. Alfred re-founded the city of Winchester, building churches and a palace that formed a royal enclave. From that city's monasteries and craft workshops came more lavishly decorated books, more finely wrought works of art. A disc brooch from this period, the Fuller Brooch, is so fine that when it was discovered in the 20th century it was considered a forgery.
Alfred encouraged education as well, and to help revive learning among the clergy he sent each of his bishops a manual for how to do their job, and with each book an æstel, or stylus, to aid in reading. The head of one of these, known as the Alfred Jewel, has survived. It is made of gold, enamel and rock crystal. The inscription on the side reads 'Alfred commanded me to be made'.
King Æthelstan, on his way to Scotland to do battle with a Scots/Norse army that had invaded England, stopped at the shrine of St. Cuthbert to beseech the aid of the saint. He did not go empty handed. Gospel books in gold and silver, vestments, horns, silver candelabra, and a crucifix of gold and ivory were left at the saint's shrine.
King Edgar encouraged monastic reform, and in 966 commemorated the establishment of Benedictine rule at Winchester with a charter. His picture graces its first page. It is one of the earliest known examples of an artistic style that has come to be known as the Winchester School, characterized by naturalistic figures and a delicate line that expresses movement and emotion. It was seen in manuscripts, textiles, sculpture, metalwork and ivories.
In Winchester the Old and New Minsters were lovingly remodeled and enlarged over the reigns of several Anglo-Saxon kings. Their walls would have been covered with brightly colored wall paintings, carvings and banners, their interiors decorated with gold-embellished bibles, gold and silver altars and shrines, gold candlesticks and candelabra, and vestments made of silk. Further north, at Ely, the cathedral had a life-sized statue of the Virgin and child made of gold and silver and studded with gems.
There were subtler works of art, too. Gold and silver jewelry, sword fittings, and belt buckles; ivory carvings that might have adorned the cover of a psalter owned by a nobleman or his wife, reliquaries that could be worn about the neck — items of personal devotion.
Rarely do we know the names of the artists. Some works were crafted by mendicant artisans who traveled the length of Britain, some by members of a noble or royal household, some by monks and nuns settled in the great monastic centers such as Winchester or Canterbury. We do get occasional glimpses of the artists, though. Dunstan, appointed Archbishop of Canterbury by King Edgar, was a skilled artist, scribe and metal craftsman. He left us the 10th century equivalent of a selfie, humbling himself at the feet of Christ.
Only a fraction of these beautiful works of art has survived the ravages of time and of man. Metalwork was often melted down and re-fashioned. Buildings, whether of stone or wood, were torn down and made anew by the Norman culture that followed. Books were lost to fire or rot. Nevertheless it was a time of great artistic energy and enlightenment, even beneath the cloud of darkness that brooded over England.
This post is part of a blog hop devised by the brilliant and energetic Helen Hollick, and I'm honored to be a part of it. There is much more to read! Here is a list of the wonderful authors participating, with links to their posts on the theme of Casting Light Upon the Darkness.
Sources: Photo Credits: Wikimedia Commons
Leslie Webster,  Anglo-Saxon Art, Cornell University Press, 2012.
Michael Lapidge, ed., The Blackwell Encyclopaedia of Anglo-Saxon England, Blackwell Publishing, 1999.
Anne Savage, The Anglo-Saxon Chronicles, CLB, 1984.