Last week I attended a meeting of the Northern California Chapter of the Historical Novel Society. (I know, that's a mouthful. Try to say it fast three times. Good luck.)
Now, writing is a pretty solitary business, so when a group of writers gathers in one place to talk shop, it's always exhilarating. When they're historical fiction authors, it's exhausting as well. Let's face it, conversing with a group of HistFicLit authors is a little like travelling in a time machine that's set on "Random." There may have been only twenty-one of us in the room yesterday, but our areas of expertise covered three millennia.
Here's just a "Random" sampling  from those who were there.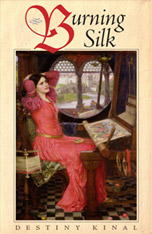 19th Century
So it was a talented bunch, most of the authors published (and some many times published!) or well on their way to it. I was supposed to be taking photos, but I was so engaged by the conversations, the readings and the panel discussion that I completely forgot. (Bad Pat!)
I have an excuse! With my own debut novel due out next year, I was busy taking notes because the main topic of the meeting was "Author Publicity and Promotion". A panel of our own members was there to offer expert advice.
What did our panel discuss? Guest Blogging; Google Alerts; using Facebook, Goodreads, Linked-in and Twitter; checking out Vistaprint and M.J. Rose's "Buzz Your Book"; finding your target audiences for readings and talks; the advantages of posting book trailers and bios on Amazon. Oh, and writing your next book while you're doing all of the above.
As I go over my notes and think about all the grunt work that lies ahead of me I could almost weep, until I remember the success stories I heard and recall the earnest faces of yesterday's gathering (without the aid of photos because some Cluck forgot to take pictures).
And I tell myself, I can do this. Besides, our speakers – Gillian Bagwell, Ciji Ware, Cecilia Holland and Destiny Kunal – have told me that I must.
By my reckoning, that's advice from four different centuries that I'd be darned foolish to ignore.
Author websites:
Joan Sargent
Cecelia Holland
Ciji Ware
Michael Barnes Selvin
Gillian Bagwell
Destiny Kinal
Julie K. Rose
Elise Frances Miller